Stepping out of the shadows
William Morris, Charles Rennie Mackintosh and, since we're in the Lakes, John Ruskin and Mackay Hugh Baillie Scott…all luminaries of the Arts and Crafts movement, which began around 1880. Considered to be one of the most influential periods of design in modern times, it was a response to industrialisation and inspired by nature, highlighting beauty in design and craft in the skills of men.
The famous names had a profound and lasting impact, but they were all men.
The proliferation of flora and fauna, the spiritual and angelic within the Arts and Crafts held obvious appeal for female sensitivities and women were involved in the movement as workers and designers. Some were prodigious talents, even exhibiting, writing books on their area of specialism and often sharing and passing on their expertise as teachers.
But, as an exhibition at Blackwell: The Arts and Crafts House, and a Lakeland gem of the movement, seeks to demonstrate they were often overlooked or their work was lost, destroyed, never displayed or, typically, misattributed to a more famous husband or father. The exhibition cites the exclusion of female members of the Art Workers' Guild, established in 1884, as an example of how they were marginalised. Alternatively, women were expected to focus on traditionally female pastimes such as embroidery.
The Women of the Arts & Crafts Movement, which continues until January 1 when Blackwell launches its 100th anniversary of women securing the right to vote, seeks to shine a light on the work of some of these forgotten female artists. The modest scale of the exhibition perhaps reflects how little of their work survives, yet the exhibits – loaned by Manchester Metropolitan University Special Collections, the Victoria and Albert Museum, Tuillie House Art Gallery and the Hunterian Museum – also demonstrate the quality and variety of their talent in embroidery, needlework, art, illustration, textile and wallpaper design, bookbinding, ceramics and metalwork.
One comment overheard by a visitor as she proudly 'identified' a design…"It's William Morris surely… " followed by: "Oh I see, it's got to be a woman," perhaps serves to highlight why it's an important exhibition.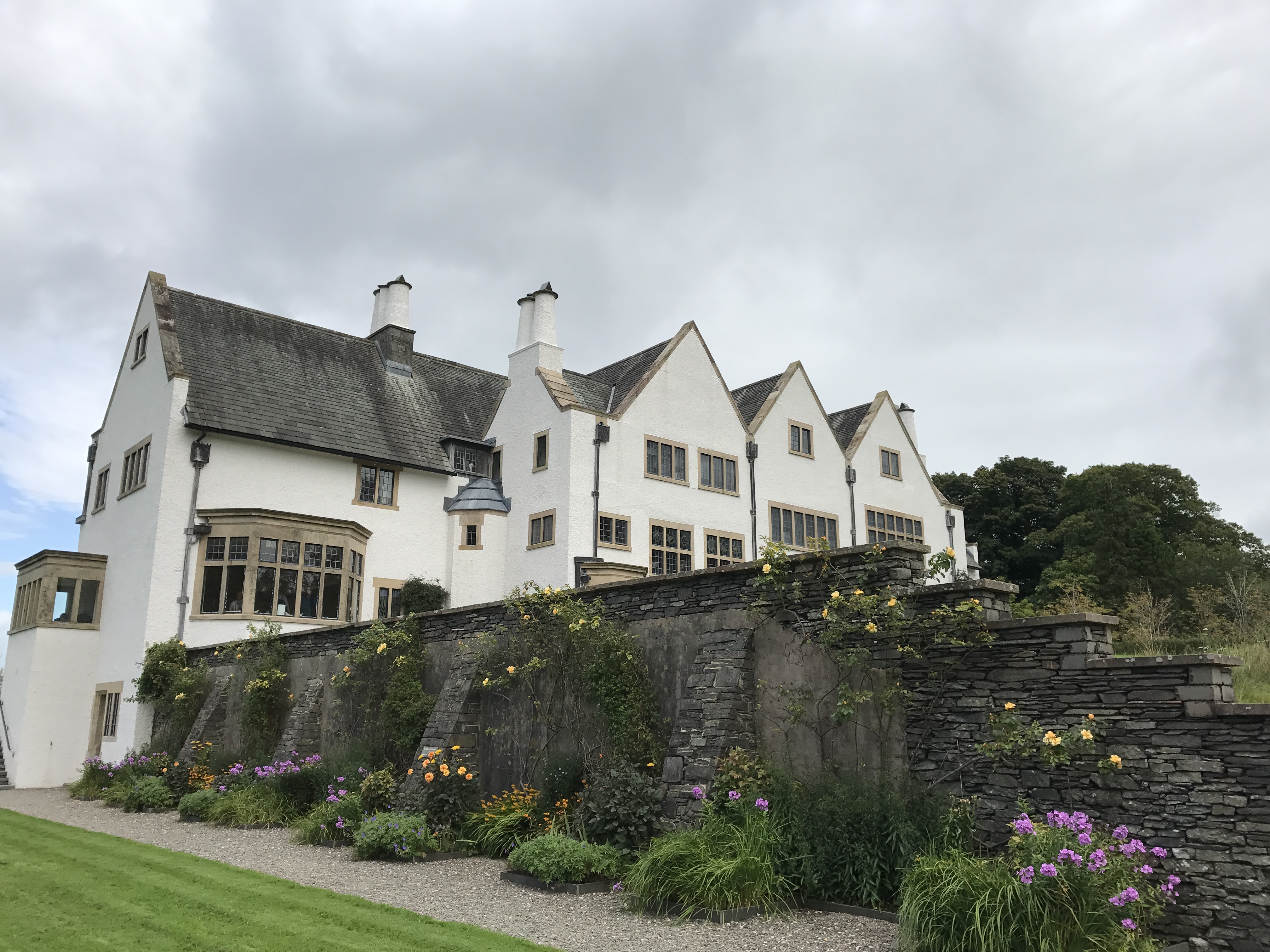 It features women like Isobel Mcbean, a talented designer and teacher of art and design at the Keswick School of Industry, founded in 1894 by Cannon Hardwicke Rawnsley, more famous as a co-founder of The National Trust and friend of Beatrix Potter.
Another woman with a local link was Ann Macbeth, who was a student and later head of needlework and embroidery at the Glasgow School of Art. She settled in Patterdale in 1921 but not before winning a silver medal at the first International Exhibition of Modern Decorative Art in Turin in 1902 and designing for Liberty.
Some of the women were recognised as leading lights in their field, including Phoebe Anna Traquair, who also gained international recognition and was the first woman elected to the Royal Scottish Academy in 1902.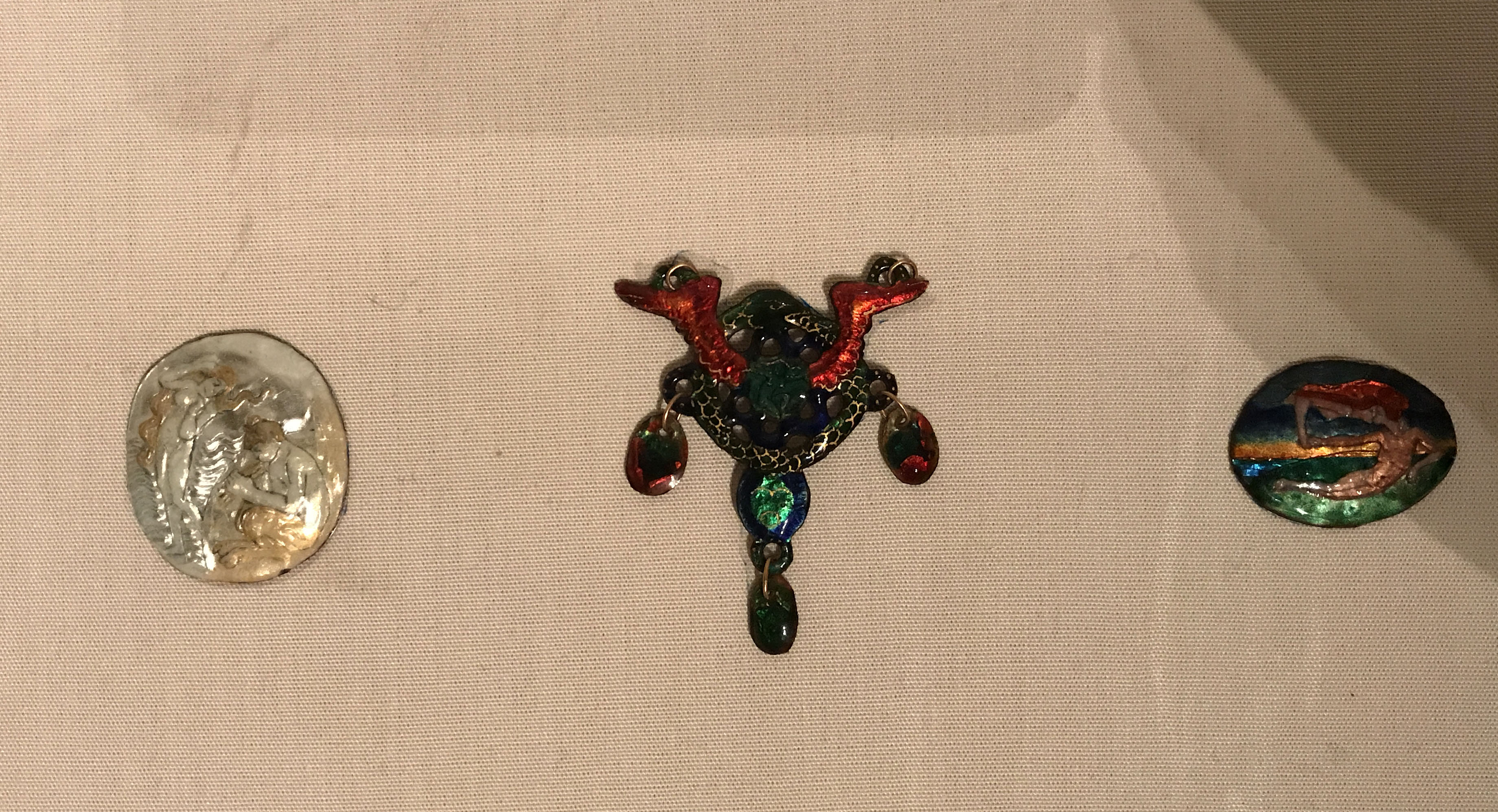 The prominence of Scotland and, in particular the Glasgow School of Art led by Charles Rennie Mackintosh, is reflected in the work of a number of artists featured in the exhibition, not least Mackintosh's wife Margaret Macdonald.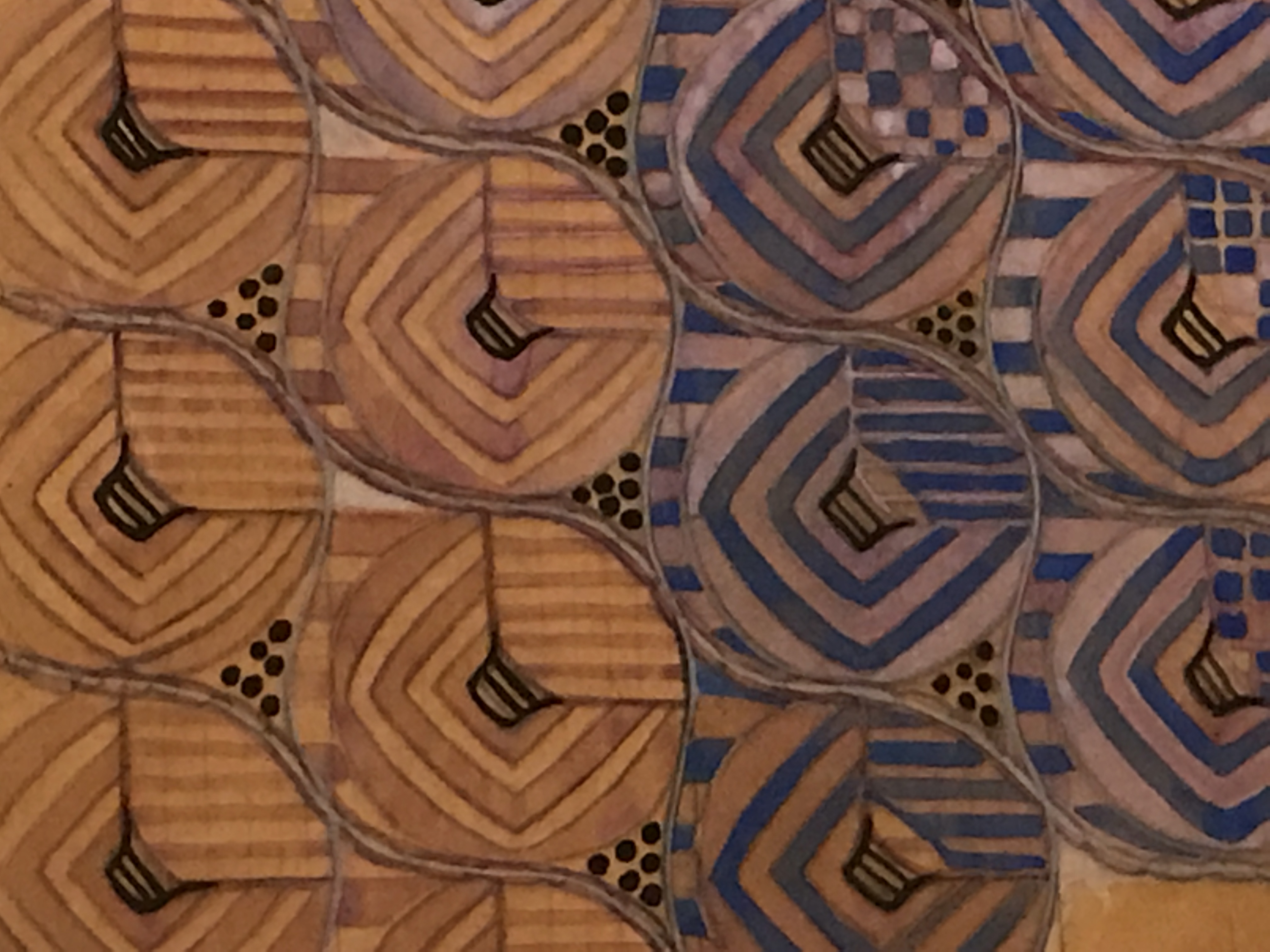 Margaret, who spent a year at the school, was inevitably overshadowed by the iconic designs of her husband and some of her work was attributed to him. Together with her sister Frances, who was married to Herbert MacNair, whose work contributed to the 'Glasgow Style', they opened a studio in the city in 1896 and produced original illustrations for clients including William Morris. The exhibition claims Frances produced some of the most powerful work of 'Glasgow Style' but her husband is said to have destroyed much of it after she died.
A Morris & Co wallpaper which dominates the exhibition looks as modern today as it did when it was designed in 1883 – by May Morris, daughter of William Morris. The curator notes the design, which is still available today in several colourways, is often attributed wrongly by retailers to William.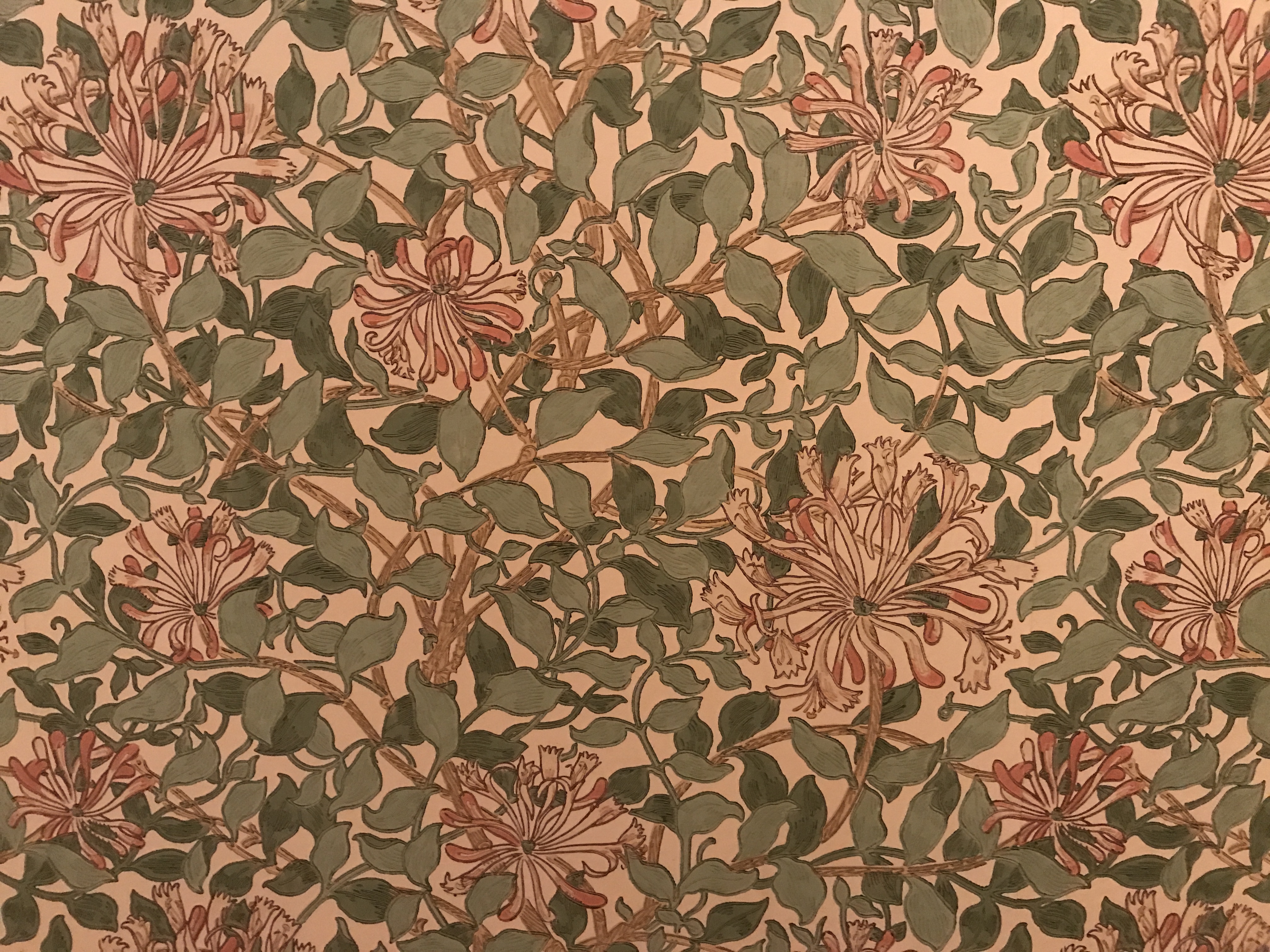 May was taught by her mother Jane, one of many women who produced work for Morris & Co. May became director of embroidery at the company aged 23 and founded the Women's Guild of Arts in 1907. She toured the USA, lecturing on the Arts and Crafts movement, wrote books and taught embroidery at the Central School of Art & Design, now Central St Martin's.
Coincidentally, May is the subject of a major new exhibition, May Morris: Art & Life, also until January, at the William Morris Gallery in east London, which includes a holiday journal she wrote and bound from her summer holiday of 1870 at Naworth Castle, in Cumbria.
One of the most delightful pieces in the exhibition is an 1874 Doulton & Co jug designed by Hannah Barlow, the company's first female designer. Together with her sister Florence and Eliza Simmance, they are said to have paved the way for later women like Margaret E Thompson, who is known for her tile murals in children's hospitals as far away as India and New Zealand.
Others with famous customers were Jessie Marion King, whose inkwash picture of The Little Mermaid was used in Hans Christian Anderson's storybook of the same name, and Mary Watt, artist, potter, designer and campaigner. She believed in art for all and, on moving to Compton, in Surrey, with her painter husband GF Watts, taught evening classes to villagers. The Compton Potters' Arts Guild produced garden ornaments that were sold by Liberty and for the Arts and Crafts garden designed by Gertrude Jekyll.
Other women featured in the exhibition seemed conscious of the need to preserve the identity of their work.
Jewellery designer Edith Dawson studied metalwork at South Kensington School and learned how to enamel from her husband Nelson, with whom she collaborated. She marked her work with a D for Dawson, while her husband used his initials.
Another collaborating couple were Georgie and Arthur Gaskin. The exhibition notes that much of the work they produced was attributed to Arthur or, at least, it was assumed he led in design and manufacture. However, as if she knew then that the work of female artists and designers might be forgotten, Georgie sought to clarify: "I did all the designing and he did all the enamel, and we both executed the work with our assistants."
The Women of the Arts & Crafts Movement at Blackwell: The Arts and Crafts House, until January 1, 2018. www.blackwell.org.uk