Review: The Gaddum
Fans of the Arts and Crafts movement have a treat - both cultural and culinary - in store at one of the Lake District's newest places to eat.
With work going on to prepare Brockhole for its debut hosting the Great North Swim this weekend and plans afoot for more adventure activities for children in the grounds, the National Park Authority Centre, between Windermere and Ambleside, is perhaps best known as a lakeside outdoor attraction.
The opening of The Gaddum, however, has added another reason to visit as it goes all out to become a foodie destination too.
Visitors in the school holidays will be familiar with the, at times, manic cafe and outdoor terrace.
The Gaddum offers something completely different - semi formal, table service dining for a three-course lunch or civilised afternoon tea in the Garden Room. It's a brave extension to Brockhole's food offering but entirely appropriate given the setting.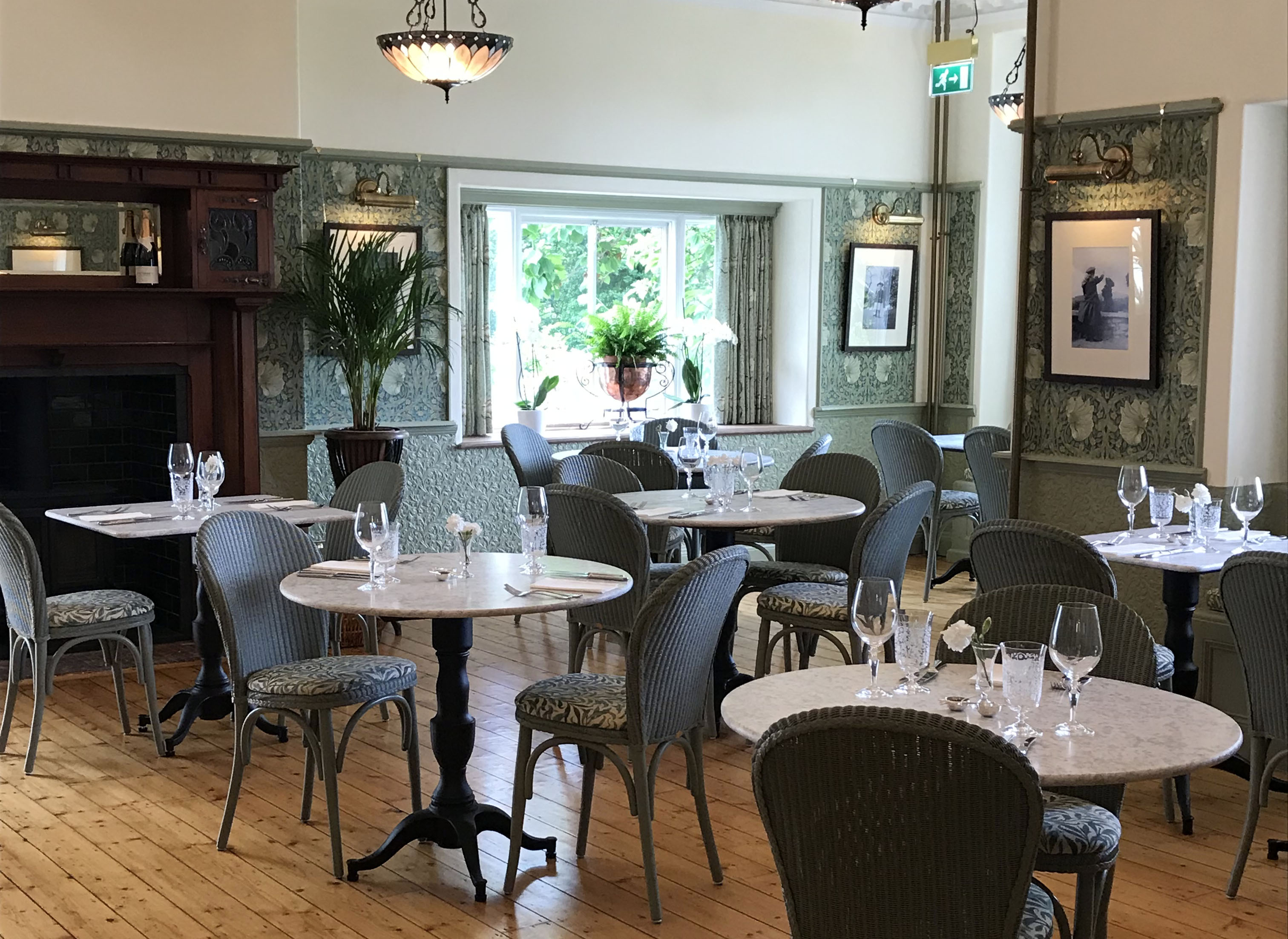 The property was built for Manchester silk merchant William Gaddum, who, in 1896, bought four adjoining plots of what was then farmland to create a holiday home for his family. A prime elevated position provided the perfect location for architect Dan Gibson's design and for eminent landscape gardener Thomas Mawson to create the entrance drives and formal, terraced gardens which drop down to a flat games lawn where the Gaddums hosted tea parties.
William's wife, Edith, clearly enjoyed life at Brockhole as she eventually made it the permanent family home for herself and their two children, Jim and Molly, while William continued to work for his family's company, Gaddum and Co.
Edith was a cousin of Beatrix Potter, who is said to have written letters to the Gaddum children, including one based on the story of Jeremy Fisher, and later was a guest at Jim's wedding in 1918. Beatrix is also believed to have attended, with her husband William Heelis, the Gaddums' golden wedding anniversary celebrations at Brockhole in 1936.
According to The Gaddum's history, after William Gaddum's death in 1945, the house was sold to the Merseyside Hospital Board and converted into a convalescent home, with much of the Arts and Crafts interior being removed. The Lake District National Park Authority bought it in 1966.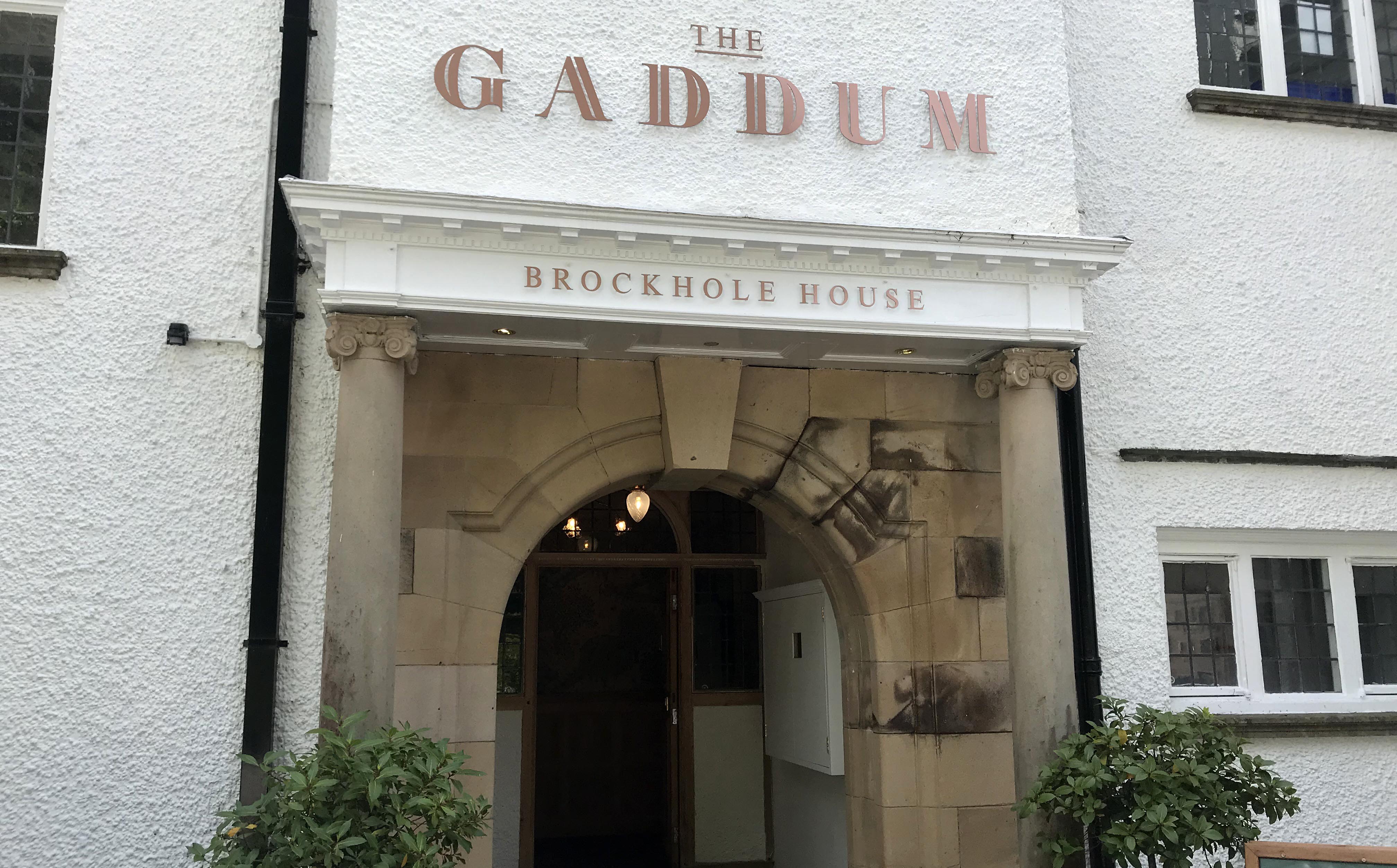 Accessed via the main entrance to the house, the restaurant is in the Gaddums' former dining room overlooking the garden.
The window benches, hearth, picture rails and dado rails are original; the Arts and Crafts fireplace was a stunning find on eBay. As the centre's head of catering, Michael Vanheste, says, it's been a project of Arts and Crafts "inspiration, not restoration".
The stripped timber flooring is complemented by William Morris wallpaper and pistachio green paintwork, Tiffany-style lights hang above the heavy iron and stone-topped tables and guests sit on Lloyd Loom chairs. Leafy green house plants, very much a current trend, are true to the period, as is the Victorian-style glassware.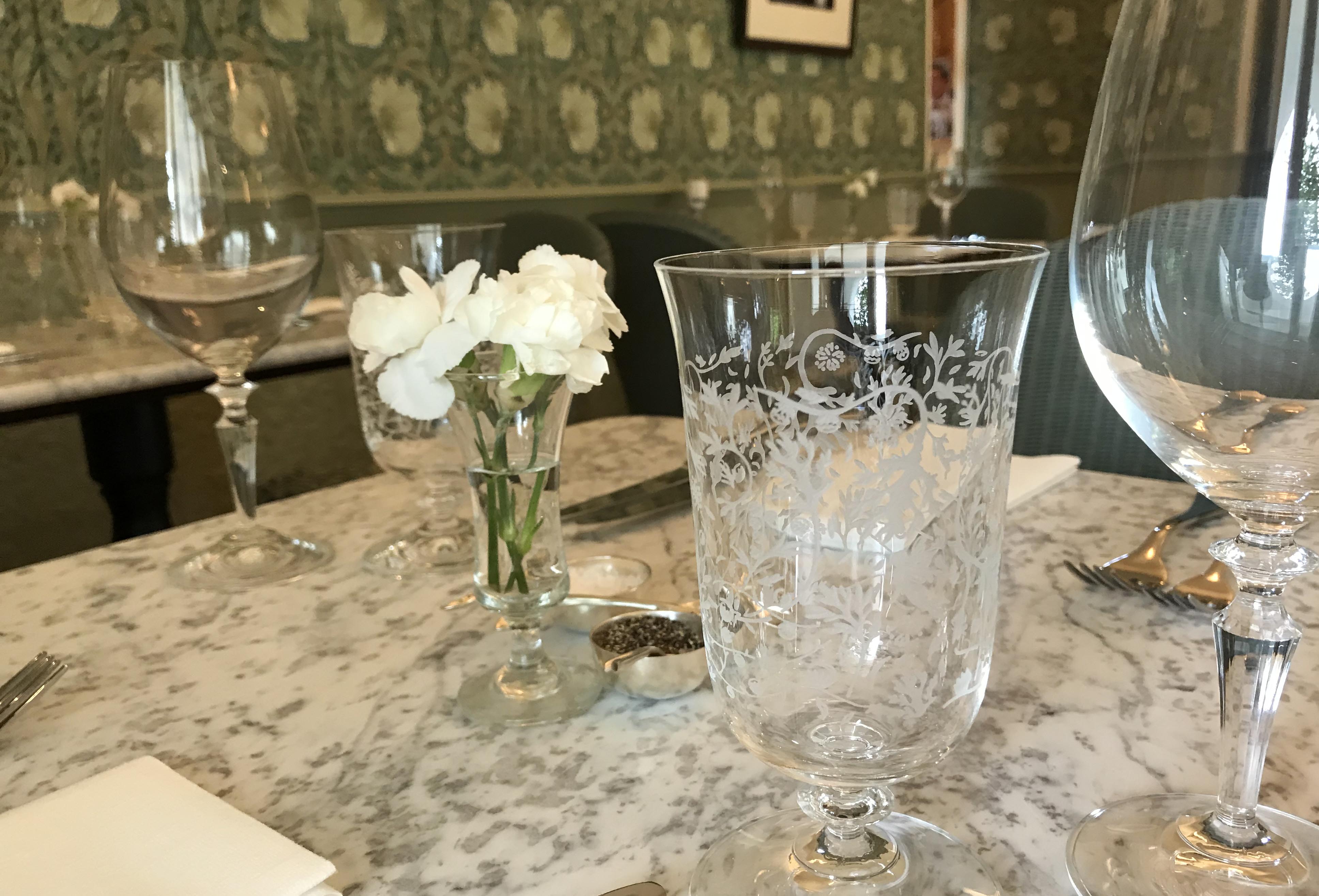 At the entrance to the main dining room is a comfortable lounge while beyond is the beautiful orangery, its monochrome floor tiles and white walls lifted with scarlet geraniums and greenery.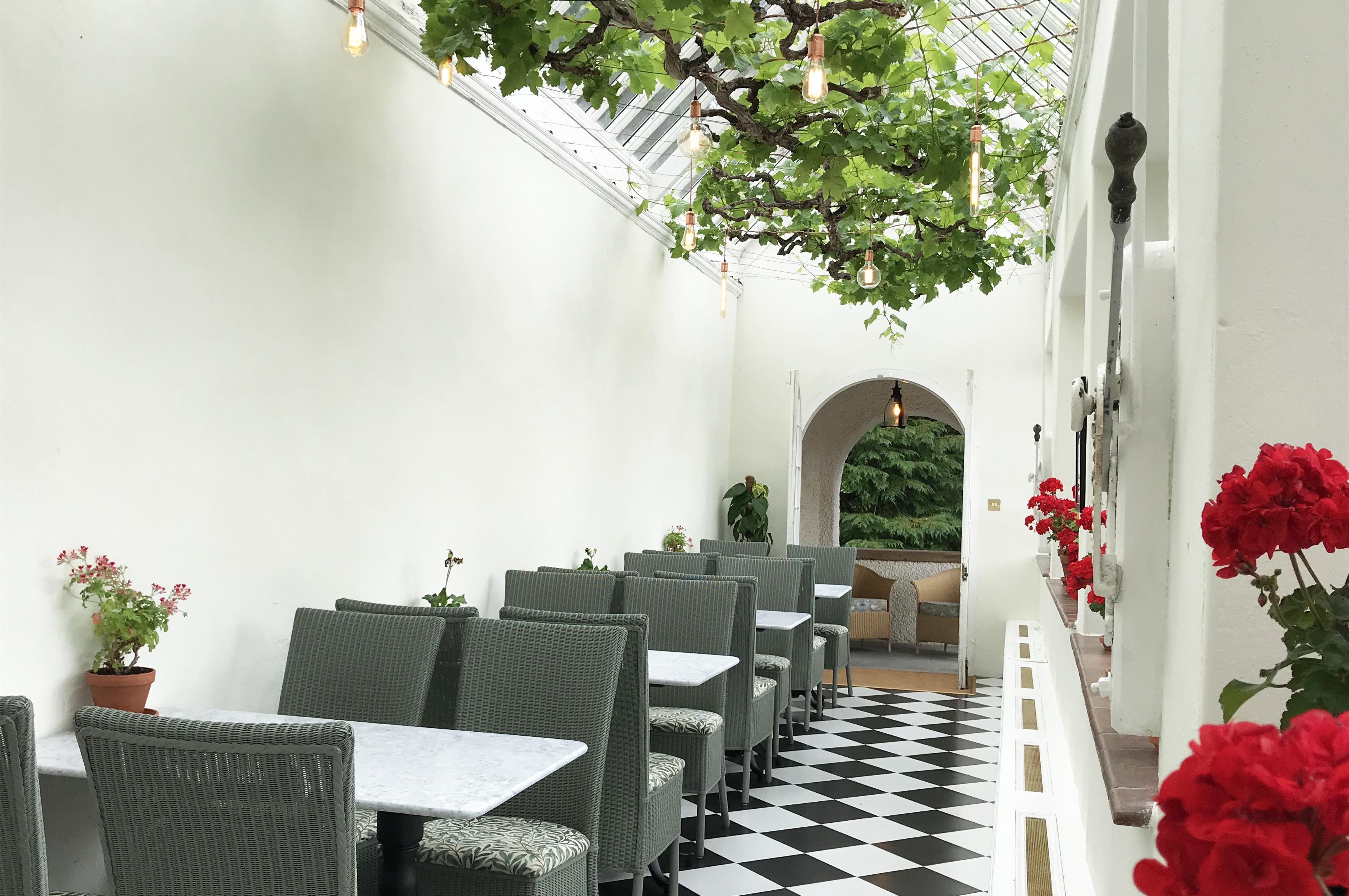 The main cafe is due to undergo a similar Arts and Crafts revamp in the near future.
So what of the food? I went at lunchtime when the choice of starters included forager's soup, fish cake with Gaddum chives, and beetroot and Cumbrian goat's cheese salad. From the menu of five main courses - Cumbrian beef and cracked wheat salad, salt-baked celeriac 'steak', chicken with kohlrabi salad, and seabass - I opted for the hearty Gaddum pea and ham hock 'hotch potch'. This was a more sophisticated assemblage than its rustic name implies, hefty pieces of pulled ham hock amid a mix of garden peas, cannellini beans and mushrooms, with crispy pancetta pieces, peashoots and divinely robust parmesan crisps.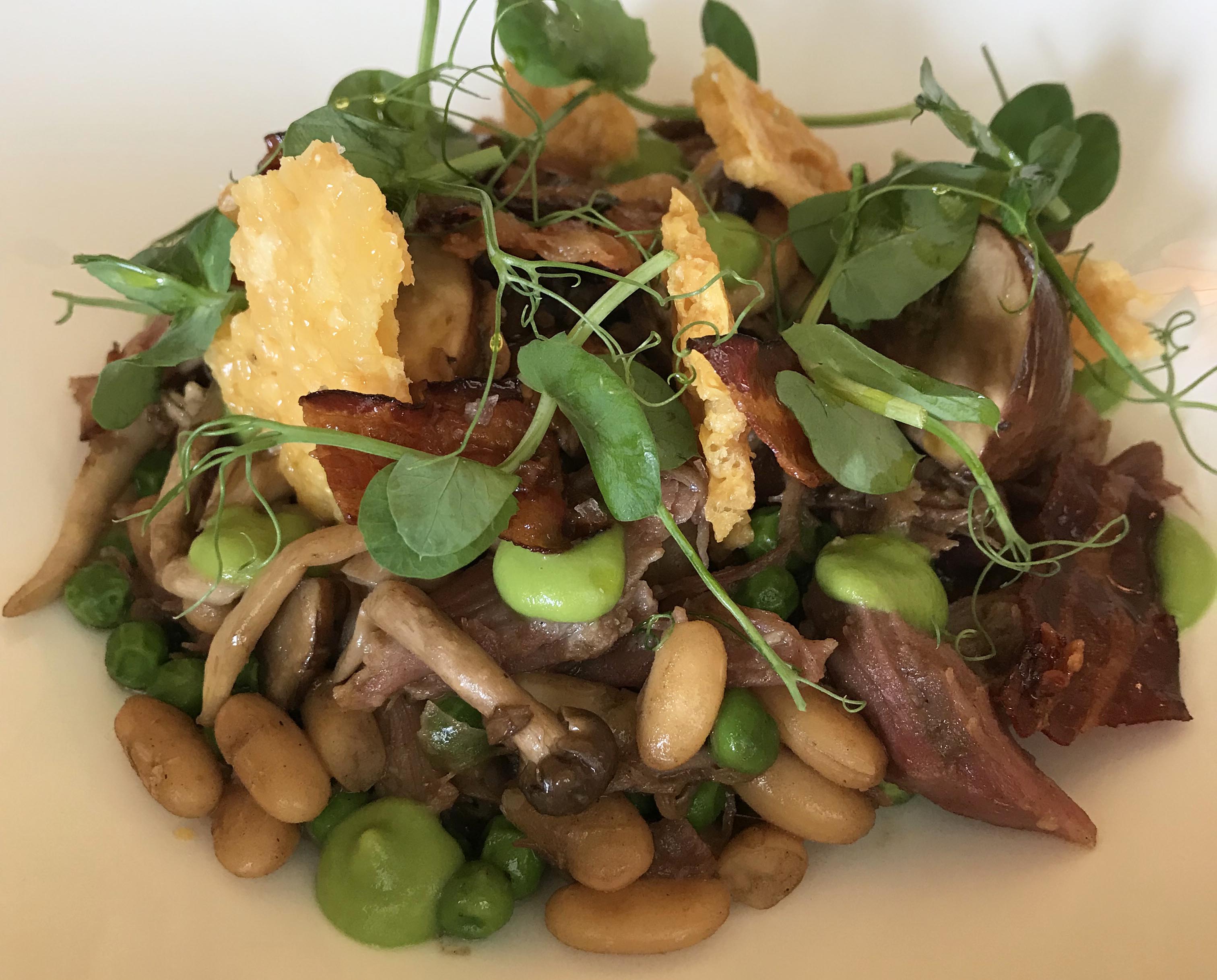 Younger diners get additional options including macaroni cheese and Cumbrian chicken goujons.
It being a hot day, the description of refreshing British Mint and Caramel from the extensive and exotic sounding menu by Quinteassential Teas appealed and proved to be a delicious choice.
With a bowl of The Gaddum's tasty fondant potatoes accompanying my plateful, I declined dessert from the list of cardamom shortbread lemon tart with strawberries, doughnut with homemade jam and caramelised white chocolate cream, and sticky toffee pudding with English Lakes ice cream. Nevertheless a bay-infused fudgy chocolate treat came my way from The Gaddum's patisserie chef, a dense yet light concoction that bodes well for afternoon tea.
The venue lends itself perfectly to a lazy afternoon of finger sandwiches, scones and cakes washed down with copious amounts of Earl Grey, or a long weekend lunch followed by a walk around the gardens.
With a new general manager and catering lead, it's the first time Brockhole has done food seriously, their aim being to suit all tastes and type of visitor, and to make it a year-round venue. Plans are afoot to open in the evening, which will should bring in a whole new set of diners and mean visitors can extend their day in these beautiful surroundings.
With around 10,000 swimmers taking to the water at Brockhole this weekend, it may not be the best time to get a table. If you're a swimmer, however, it could be just the place to revive in style.
* Open from 11am-4pm www.thegaddumrestaurant.co.uk