Review: Mizu pan-Asian
WHEN the pre-dinner snack recommended by our waiter at Mizu is a bowl of shiny green edamame beans, you know you're in for a guilt-free meal.
Packed with protein and iron, and gluten and cholesterol-free, served briny in authentic Japanese style, they're an unusual – but super healthy – alternative to salted peanuts, bread and olives before the main event. Even washed down with a delicious Eastern-inspired cocktail, they're a nutritious pre-cursor to a dinner that leaves you satisfied, but feeling oh so worthy. That's if you manage to fill up before indulging in the dessert menu, but more on that later.
It was a sunny late summer evening as we headed to the Lodore Falls Hotel to try out their new pan-Asian restaurant. Happily going against the long, static snake of traffic returning to Keswick from Borrowdale, we could enjoy glimpses of Derwentwater while being sympathetic for those Bank Holiday weekenders stuck in the queue.
Anyone who's been past Lodore Falls in the last year or so will know major construction work is underway and the development of new rooms, a spa, brasserie and conferencing facilities is progressing, although still with some way to go. Diners can use the hotel car park but, be warned, you will need the code on your receipt to exit.
Mizu is in a completed extension to the original hotel, all slate outdoor terracing, timber frame and a full height glazed frontage. Mizu – translated as the Japanese expression for water – references the restaurant's position between the famous Lodore Falls and Derwentwater and, once the rest of the work is done, it will be a very pleasant spot to eat al fresco.
For now, and since there's a definite autumn chill in the air, we're inside. It's very smart, a calming palette of greens, taupe and pale grey, and natural materials like oak, leather and soft fabrics providing instant appeal. There are sofas from which to peruse the menu if you wish, and a very stylish bar where my Ophir Oriental Express cocktail was rustled up, mixing the spicy gin with mango juice and a kick of ginger beer. It's a tantalising cocktail menu, taking classics and giving them an Asian twist, and there's an extensive wine list too.
So onto the food. If you're a novice when it comes to Japanese food, not to mention the Korean, Thai and Malaysian influenced dishes on offer, the menu could at first seem a little overwhelming. It's huge, with pages of tempura, plates (small and large), sushi and sashimi, curries, salads, sticks, ramen noodles, stir fries, sides and so on, all well priced (mains £15-19). Helpfully, there are pictures – not in the way of the laminated sheets you get outside restaurants in Mediterranean resorts you understand, but Instagrammable photos of delicious-looking food on a stylish black background.
In the end, ours was a very quick decision. Although the Taste of Mizu sampler was recommended – a combo of sushi and sashimi, miso soup, beef tataki, crispy shrimp, teriyaki lamb cutlets and dessert – too many divergencies among our threesome led us instead to the Mizu Superboard. There is a kids' menu, but our ten-year-old was more than keen to join in the Superboard experience.
As the first in the dining room, we didn't have to wait long for our food, but we still had a short time to watch the kitchen at work, led by head chef Kasun Jayasooriya. Originally from Sri Lanka, where he was brought up on the island's melting pot of European and Asian cuisines, and introduced to the food of Japan, thanks to his sister moving there.
Mastering Japanese etiquette, not to mention the various food preparation and cooking techniques, is renowned for its difficulty, and Kasun headed to university in Tokyo to learn both the language and culture through studying travel and hotel management. Before leading Mizu, he worked in Tokyo prior to executive and head chef positions in London, at Sake No Hana, Nizuni and Bincho Yakitori.
The removal of our candle and plant from the table suggested our menu choice would live up to its name; when it came it was, in fact, three boards brought together to create a stunning array of photogenic food.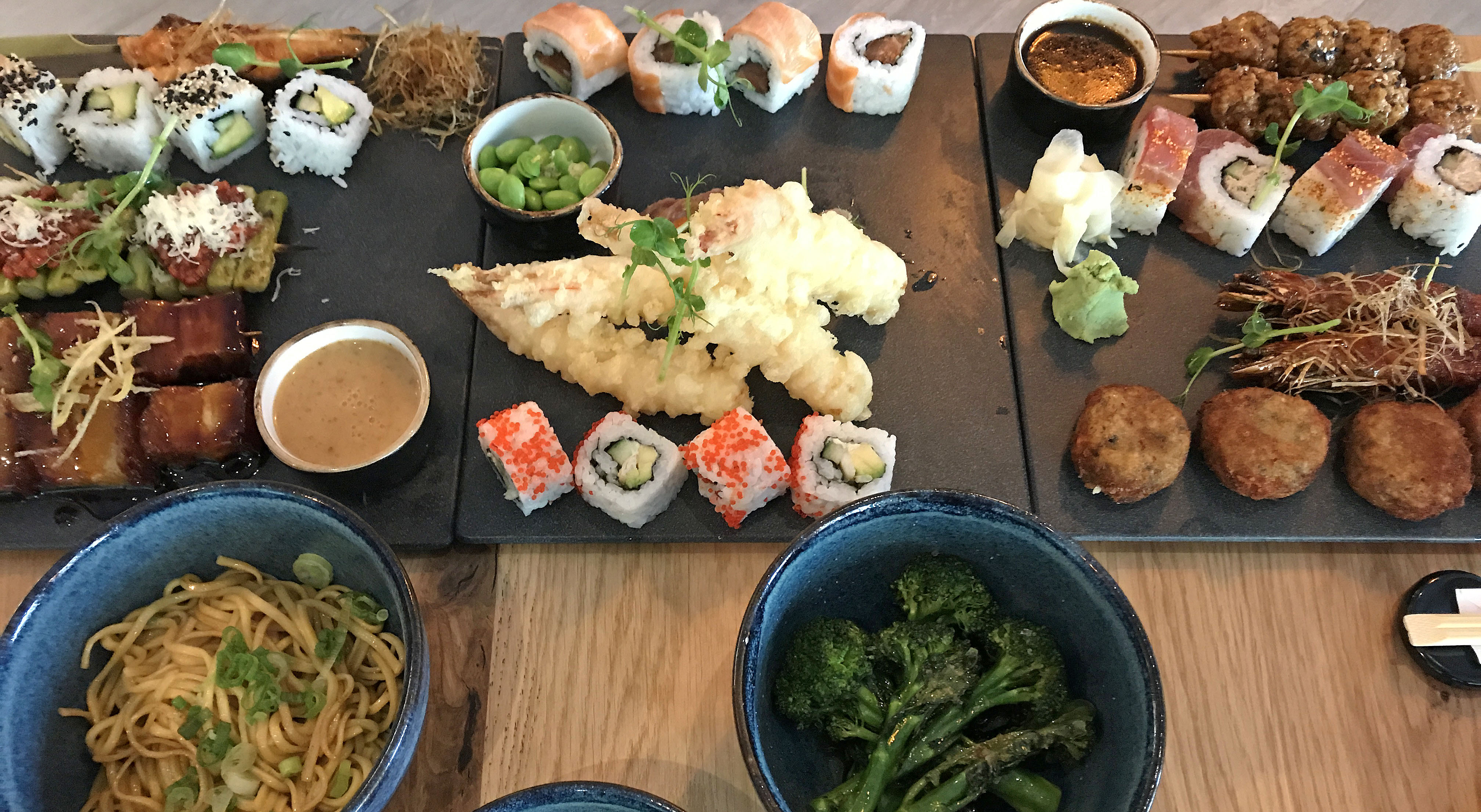 More fish-focused, it was packed with teriyaki salmon sticks, tuna tataki (lightly seared slices), four types of sushi, tempura black tiger prawns (everybody's favourite), kani karokke (crab cakes) and crispy shrimp sticks, as well as chicken meatballs, sticky pork belly, delicious little pan-pipes of asparagus and more edamame beans, all garnished with crispy fried spring onions, peashoots and little piles of wasabi and pickled ginger. Our two inclusive side orders were noodles and a very tasty bowl of sesame-infused tender stem broccoli.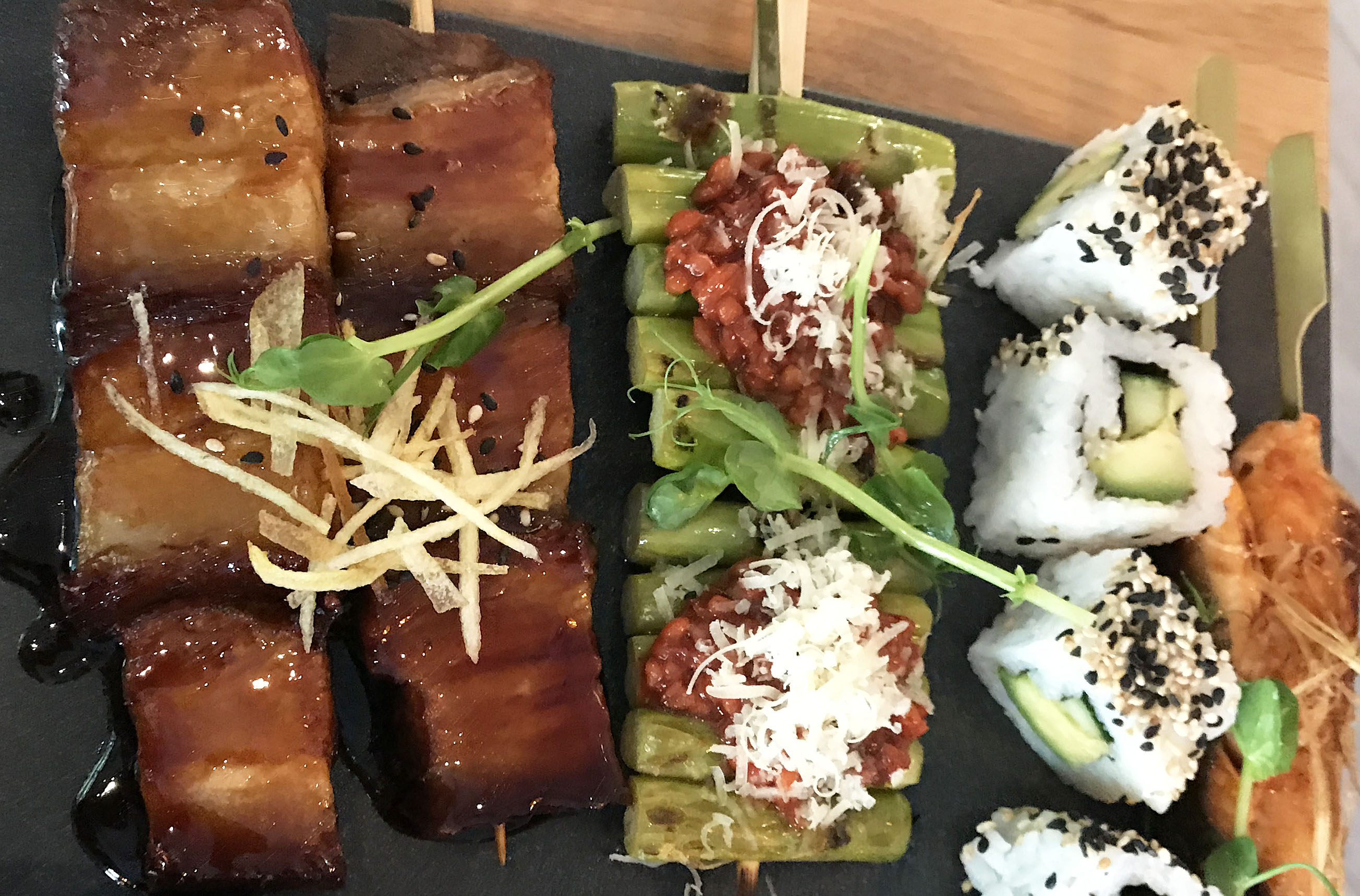 It fed three of us plentifully, and when you consider that's three starters and main courses in one, at £78 it was excellent value. Indeed, we had to forgo the talked-about chocolate lava cake that's perhaps destined to become a Mizu classic and instead opted for a variety of scoops of Northern Bloc ice cream including ginger and caramel, coconut and almond, and espresso and chocolate.
Very ably looked after by two young waitresses, one of whom was on work placement from Vienna to add even more to the international mix, the restaurant was filling up nicely by the time we left, our appetites sated but without that "oh no, I've eaten too much" discomfort.
Our choice of dish having provided us with a great flavour of Mizu, we'll definitely be back with a personal pick of our favourites. A bowl of warming chilli ramen noodles or Thai green cod itame (described as very hot!) could be just the thing for a chilly winter evening.