Review: Forest Side
A significant birthday calls for a significant celebratory dinner and, happily, in the Lakes we're spoiled for choice when it comes to potential venues at which to mark such an occasion.
My mystery destination had been chosen for me but as we headed north past the turning for Grasmere village then slowed to take a right into a private drive it was clear where we were headed. It had been a while since I'd been to Forest Side and I was eager to go back.
The property was built in 1853 by eminent Manchester solicitor Stephen Heelis. It had started life as a group of ancillary buildings and workshops connected to the Swan Inn, a prominent stopping off point for those travelling through the Lake District, and later grew into a farm in its own right. Mr Heelis created the walled gardens but is believed to have owned the house only for around six years.
It continued as a gentleman's residence until the late 1920s when it became a commercial property providing rural holidays for city folk until its sale and the ambitious renovation project to transform it into today's exclusive hotel began in 2014.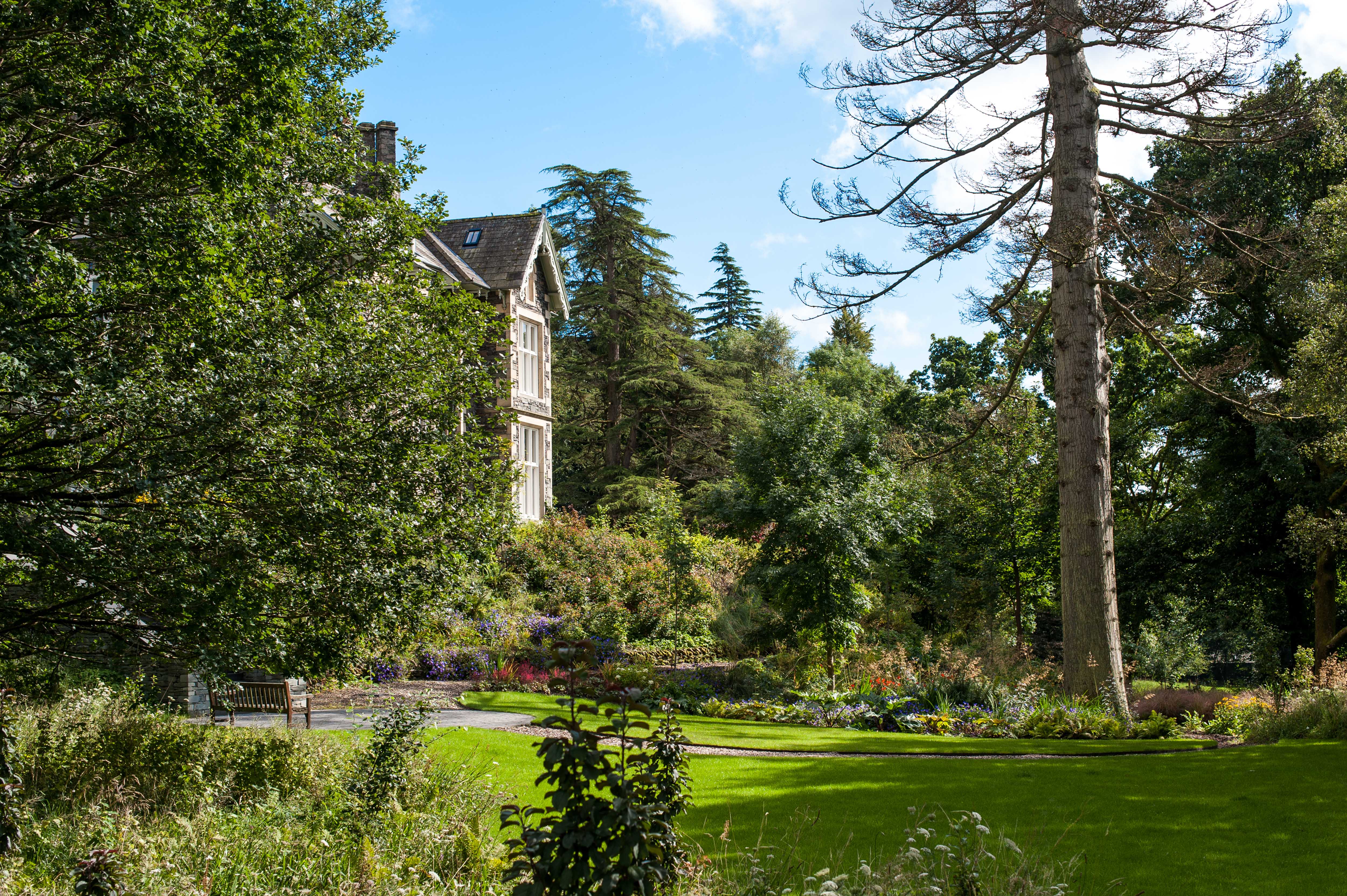 Thankfully, it's the family home part of its past history that has stood the test of time. Admittedly, our headlights had beamed out as we came up the drive – or maybe they have CCTV in the car park – but it was still impressive to have the front door opened and someone to welcome us as we headed up the steps. Handing over our coats, it felt just like arriving at a friend's house for dinner.
The comfortable feel continued as we moved into the cosy bar and sank into seats by the fire. Given the occasion, the old school option of a kir royale seemed a fitting choice from the bar menu, though there were lots of delicious-sounding warming cocktails, perfect for a chilly night, to choose from. Served at our table by a barman dressed in the signature Forest Side tweed added to the homely feel.
Robust amuse bouches, including black pudding with damson jam, were a tantalising early treat, followed by delicious breads with butters of celeriac and Lakeland milk with Malden salt once we were seated in the dining room. It's a large airy space with exposed wood floor and table-tops.
Dinner at Forest Side is a choice of tasting menus – The L'Al Un (six courses), which we chose, or The Grand Un, which includes an extra four courses.
I should say from the outset I have an ambivalent view of tasting menus. With a la carte the focus feels like it's more on you, the diner. Although a menu is always defined by the availability of ingredients and creativity in the kitchen, you engage with it, study it, contemplate and make your choice of dishes based on your own preferences honed over time. Tasting menus, on the other hand, seem to be more about the chef's own indulgences dictating what will arrive at your table. The benefit of this is you will likely end up eating something you might not have chosen – indeed might have deliberately avoided – and that's a good thing. Those who truly enjoy food should always be willing to try new things. And let's face it, diners don't go to Forest Side if they want the same old same old, they go for head chef Kevin Tickel's countryside foraging and top-quality ingredients transformed into Michelin-starred dishes inspired by the local landscape.
After a robust mushroom and madeira broth, our second dish perfectly illustrated my point about being on a culinary adventure. My partner had informed the restaurant at booking that we don't eat beef but omitted to mention that, actually, I'm not keen on any red meat. I'd spotted the venison pastrami on the menu and wasn't especially relishing its arrival – not just game, but uncooked too… It turned out to be one of those moments of education – fresh, delicate and light, with added zing from smoked juniper yoghurt, I loved it.
Clearly on a roll, the next course proffered another dubious character in my foods-to-avoid – oyster. (I don't consider myself picky normally but being only on the third course I was starting to look deluded.) Happily, the oyster was chopped teeny tiny and blended in a vinegary salsa with one of my faves, tarragon. Served to accompany the most perfect piece of halibut, measured meticulously in both symmetry and cooking, with charred crispy lettuce, it was my dish of the night.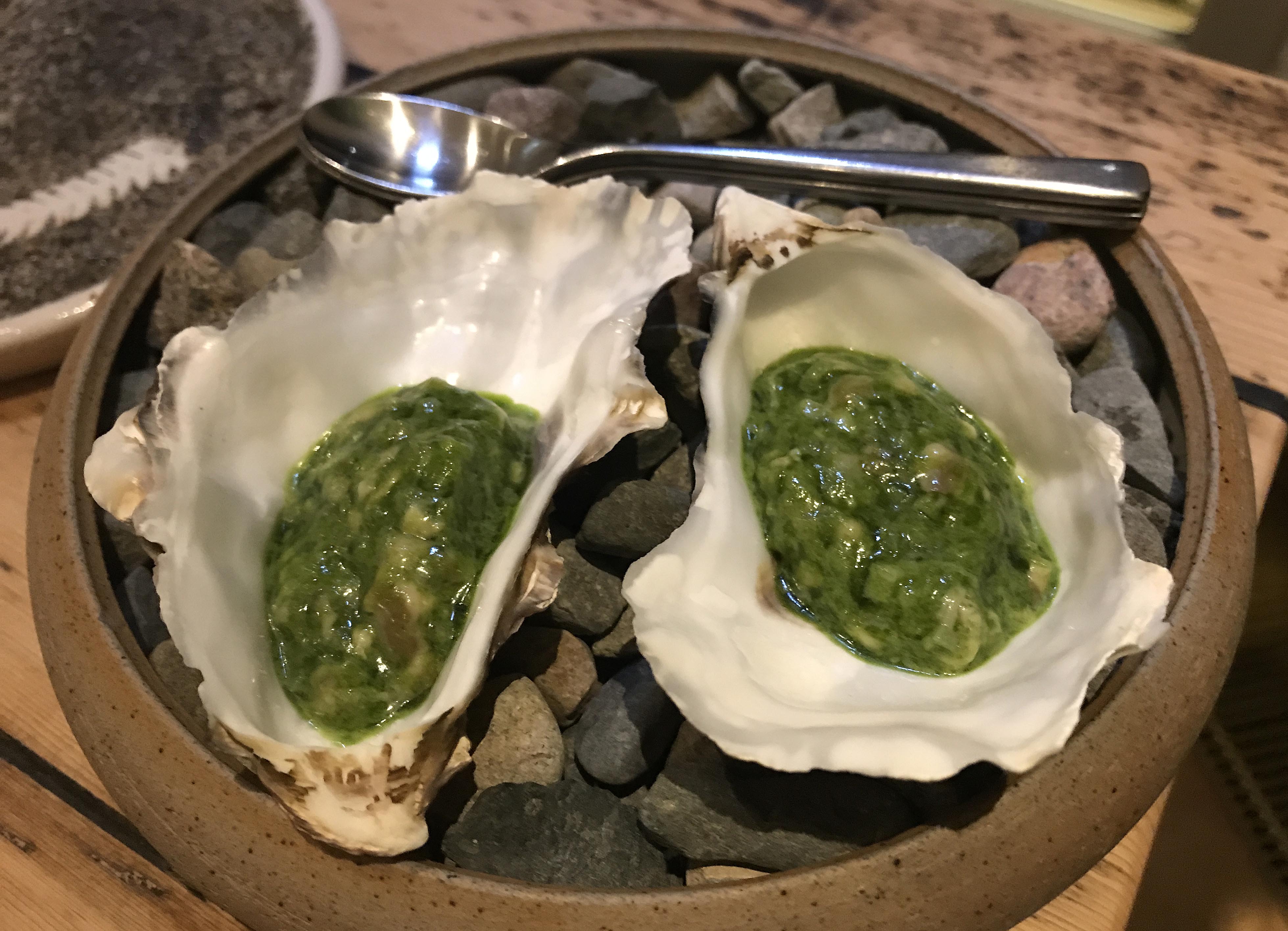 Originally due to be beef, our next course was substituted with wood-fired saddle back, a succulent portion of pleasing pork. It came with a piece of slow-cooked cheek, pickled walnut and an artichoke and brown onion gravy.
Every dish was finished off with the micro herbs for which Forest Side is famous, miniature bits of green that pack a punch when it comes to flavour and are full of high-density healthy flavonoids.
The penultimate dish eased us gently towards dessert, mascarpone cream atop pureed squash with appendages of crisp dehydrated squash cake and sprinkled with chopped pecan nuts and finely ground coffee bean, each spoonful a wonderful explosion of sweet and salt as it journeyed through the mouth. Ingenious.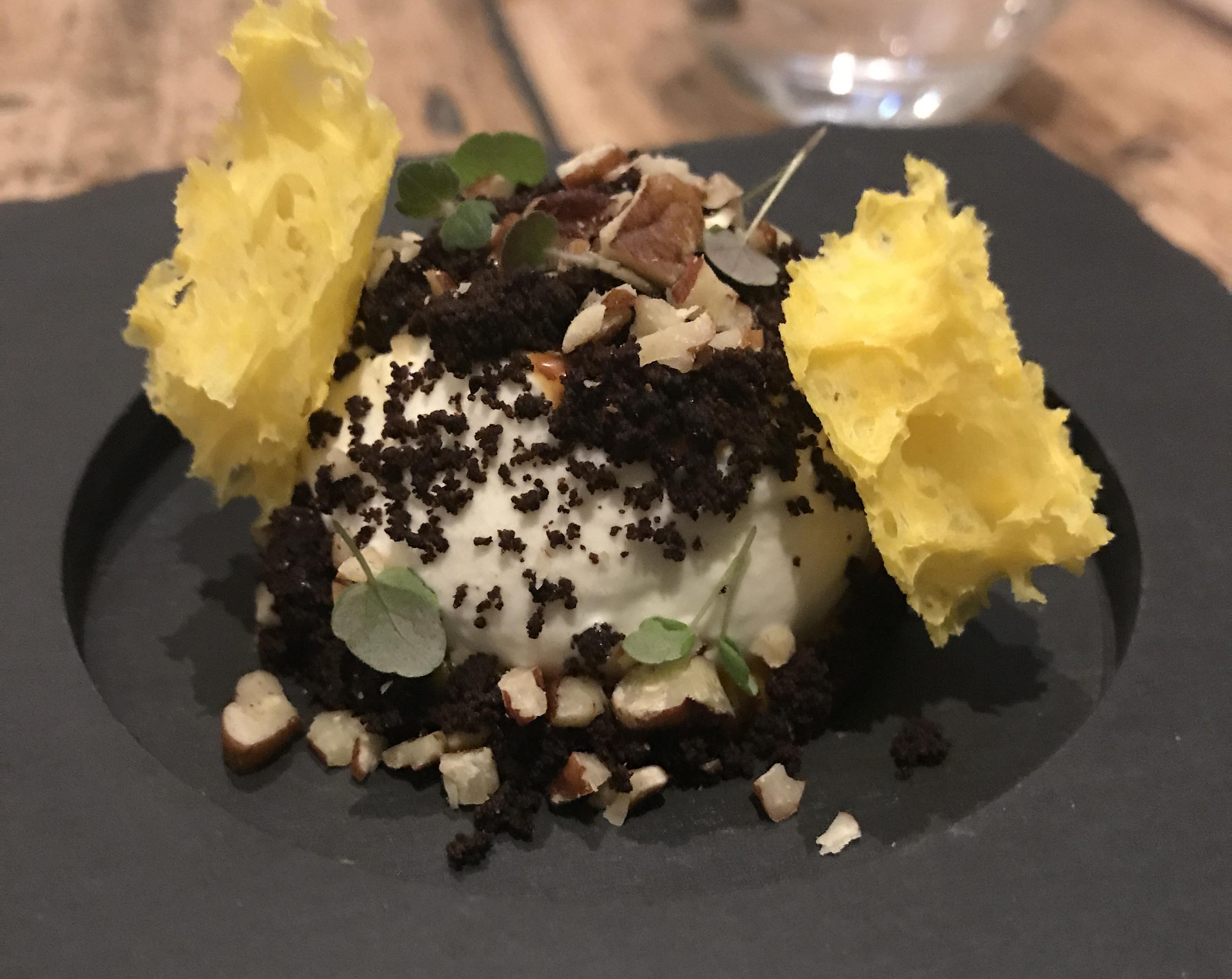 Our meal concluded with an artistic masterpiece, deep purple bramble parfait on a brown butter crunch base with pine jelly, so pretty and a memorable conclusion.
Service was perfectly paced – the team at Forest Side are clearly well practised on getting the timing just right, allowing enough interval for you to digest – mentally and physically – each course before the next one arrives. Another joy of tasting menus is the 'surprise around every corner' promise. Cryptic descriptions of dishes mean you never know quite what to expect beyond the main elements which certainly adds to the theatre.
We were served by a canny local lad and an equally charming, very French waiter who, I'm afraid, I found difficult to understand on occasions – there are only so many times you can say "pardon" without embarrassment on both sides. Nonetheless we greeted him with cheery anticipation each time he approached, and he was very knowledgeable about the various ingredients of each dish.
At £80 per person, with a couple of pre-dinner drinks and glasses of wine, Forest Side is at least a £200 night out. For that you get a special experience and fascinating food that pays homage to Cumbria – and, after all, you only turn 50 once.
* Forest Side, Keswick Road, Grasmere LA22 9RN, Tel: 015394 35250.