Mix it up this Christmas with a Lakes cocktail
Christmas is coming and there's no better time for cocktails. Full of flavour, aesthetically appealing and oh so easy to drink, nothing gets a Lakes party going like a cocktail – especially when they're created from special ingredients made here by dedicated producers.
All the drinks below are available year-round but really come into their own in this season of martinis, blushes, fizzes and punches.
Favourites like Kin Toffee Vodka and Pennington's Bakewell Liqueur lend themselves brilliantly to warming and fruity cocktails, while The Lakes Distillery's Gin and The ONE blended whisky provide a base for numerous glamour drinks. You'll see all of them on sale at the various Christmas and seasonal fairs going on around Cumbria, as well as in shops and online.
I've collected up recipes from some of my favourite makers to get your party started. Cheers!
Kin Toffee Vodka
This delicious, small-batch vodka is produced by multi award-winning Kin at Newby Bridge. The blended vodka has been developed with rich caramel tones – I'm not even a fan of vodka but I love this. It's lovely served straight over ice but is also great in cocktails. (Check out their website for some yummy recipes for desserts too.)
Kin Espresso Martini
35ml Kin Toffee Vodka
50ml regular vodka
25ml espresso coffee
Pour all the ingredients into a cocktail shaker over ice, strain and serve in a martini glass.
Cumbrian Kin Mule
25ml Kin Toffee Vodka
50ml medium dry cider
25ml ginger beer
Mix together over ice and stir with a cinnamon stick for added kick.
Kin Italian Job
25ml Kin Toffee Vodka
25ml Disaronno Amaretto
Mix together and stir over ice.
Banoffee
50ml Kin Toffee Vodka
50ml banana liqueur
10ml single cream
¼ banana
Blend everything together and serve over ice.
Toffee Apple
50ml Kin Toffee Vodka
50ml apple juice
25ml lemon juice
Mix together, fill up the glass with ice and serve with an apple slice.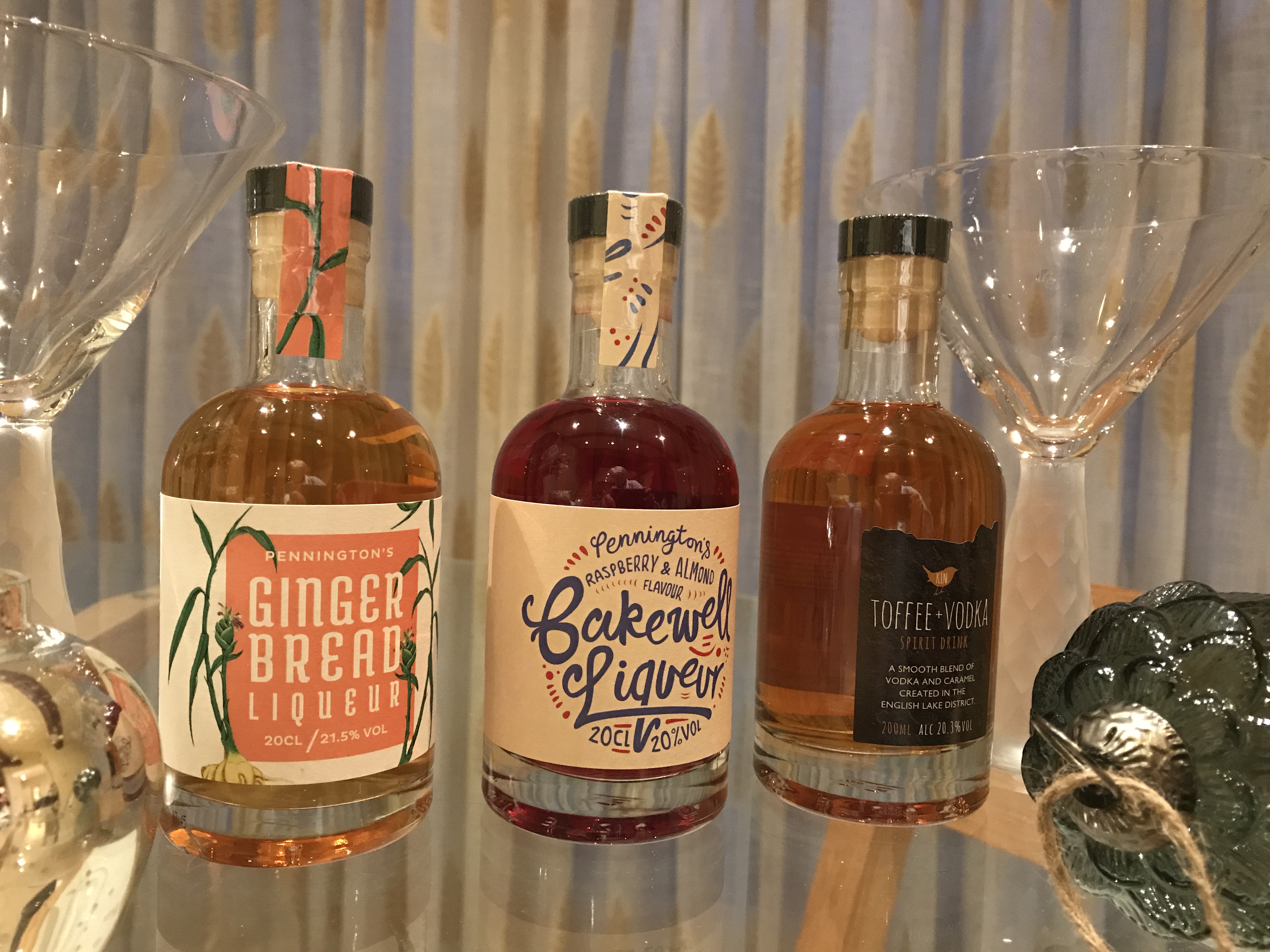 Kendal Mint Cake Liqueur
Inspired by the area's famous Kendal Mint Cake sweet treat favoured by mountaineers, the liqueur was created in 1990 from an original recipe blending fresh peppermint and smooth chocolate.
Kendal Grasshopper
50ml Kendal Mint Cake Liqueur
50ml double cream
Mix with crushed ice and pour into a martini glass before garnishing with flaked chocolate and fresh mint leaves.
Cumbrian Rum & Coke
25ml Kendal Mint Cake Liqueur
25ml spiced rum
Coca-cola
Mix together and pour over ice, with lime and fresh mint leaves to garnish.
Mint Martini
25ml Kendal Mint Cake Liqueur
50ml organic vodka
15ml sugar syrup
One shot of espresso, cooled
5ml Kahlua
Pour all the ingredients into a cocktail shaker and fill with ice. Shake until very cold. Fine strain into a chilled martini glass. Garnish with three organic coffee beans.
Gingerbread Liqueur
Pennington's Spirits, of Kendal, are also responsible for this little winter warmer that's full of warm spice and sweet butterscotch.
Kentucky Sunset
Simply mix equal measures of bourbon and Gingerbread Liqueur and pour over ice.
Bakewell Liqueur
Another from the Pennington's stable, this one is for lovers of frangipane with fruitiness from raspberry, which apparently came before cherry in the popular tart.
Bakewell Blush
25ml Bakewell Liqueur
25ml organic vodka
75ml fresh pineapple juice
Pour all the ingredients into a high ball glass, stir and fill with ice. Garnish with a fresh pineapple chunk.
Lakes Distillery The ONE blended whisky
The Lakes Distillery open in December 2014 after a £9m investment to transform an 1850s Victorian farm into a world-class distillery of quality spirits, visitor centre and restaurant close to Bassenthwaite.
Lakes Blood & Sand
25ml The ONE
25ml sweet vermouth
25ml cherry liqueur
35ml orange juice
Pour all the ingredients into a shaker, shake fast for 10-15 seconds and serve in a martini glass.
The Lakes Old Fashioned
50ml The ONE
1 tspn sugar
1 slice of orange peel
3 dashes of Angostura Bitters
Combine the sugar and bitters in a rocks glass, add 4 ice cubes and the whisky. Stir until the sugar has dissolved and serve.
The Perfect Pear
40ml The ONE
10ml honey whisky liqueur
15ml lemon juice
7½ml vanilla syrup
50ml pressed pear juice
Soda water
Add the first 5 ingredients to a shaker and shake gently to combine the flavours. Single strain into an ice-filled glass and top up with soda water. Garnish with a fine sliver of fresh pear.
Lakes Distillery Gin
The Lakes Negroni
25ml Lakes Explorer gin
25ml sweet vermouth
25ml Campari
Pour the ingredients into a rocks glass filled with ice and stir.
All the recipes are taken from the producers' websites, Pennington's Spirits, Kin Vodka, Lakes Distillery