Mastering the art of coffee
It's Mother's Day and while many mums are being taken out for breakfast or looking forward to lunch, I'm heading off for three hours in the classroom – to learn about coffee. My Mothering Sunday treat to myself is a chance to indulge my love of a good coffee at speciality Cumbrian roasters Carvetii.
I always said if I had my time again I would have channelled my talent for drinking the stuff into aspiring to be a buyer for a coffee supplier, travelling to remote farms in exotic locations to find the finest beans. For now, I only need to go as far as Threlkeld, near Keswick, and this workshop is not about the origins of coffee but the science behind roasting and brewing.
Gareth Kemble, who co-founded Carvetii with his partner Angharad MacDonald, hosts monthly workshops for amateurs like me in a fully equipped training kitchen – as well as accredited training for professional baristas – at their relatively new and soon to expand HQ on the edge of the village. They came to Cumbria from their native Wales to go snowboarding and stayed, starting the business six years ago.
Gareth had been a primary school teacher and later a schools inspector but became interested in coffee after helping in his mum's cafe. The change of life brought on by their move north was also the perfect time to explore the world of coffee and since then they've both built up formidable expertise - Angharad in roasting and Gareth in brewing, sales and customer support. One of seven coffee roasters in the county, Carvetii - named after a Celtic tribe once found in Cumbria - supplies to virtually all the high end coffee shops and cafes as well as premier hotels in the Lake District and many more elsewhere. They also sell online to retail customers. But their award-winning coffee only comes as beans.
"The shelf life of our beans is about a month. The shelf life of ground coffee is about 20 minutes. You must always buy beans and grind as you need them, folding over the top of the bag and putting them away in a cupboard in between," explains Gareth. That's question one done and dusted, so it's on to the first taste test for me and the other two pupils.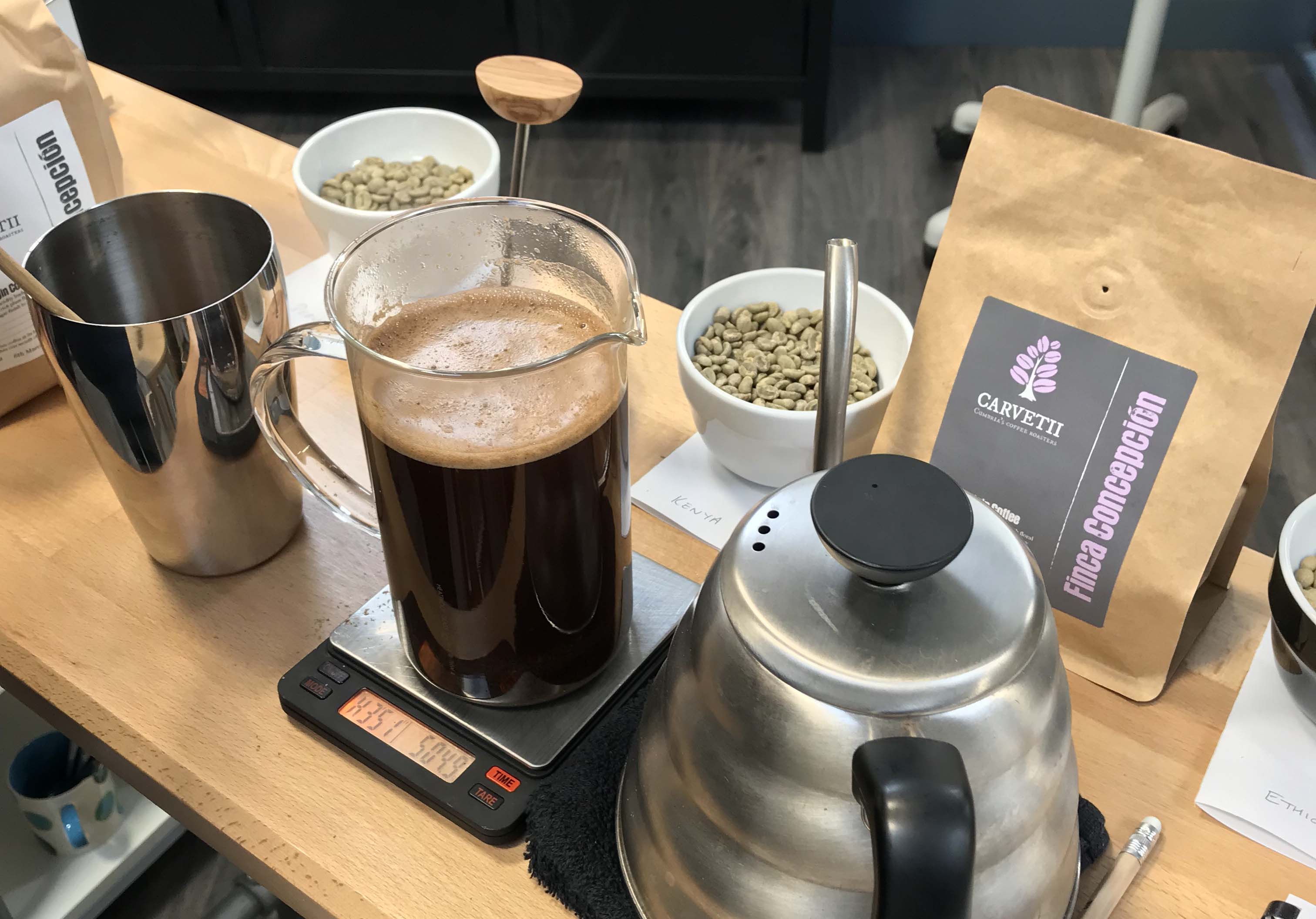 We start at the beginning with an explanation of the difference between natural and washed beans. The former is when the harvested coffee cherries - coffee's a fruit - are washed and dried in the sun to remove the skins, the second being when the cherries are pulped and allowed to ferment in the mulch to release the bean. The different methods have an enormous impact on the flavour. For me, the natural version of the Gigesi Guji coffee from Ethiopia that we try has a sour, fruity flavour, while the washed version has a superior, softer quality.
The aim of the brewing workshop is to teach us how brewed coffee is affected by the different variables of grind, type of water, temperature, time and so on. "I want you to leave with an understanding of the theory behind brewing so that you can apply it to whatever brewing method you use at home," says Gareth.
Looking at the different gadgets on display, I feel slightly embarrassed to admit that I use a simple cafetière at home, preferring to go out to a favourite cafe – all supplied by Carvetii as it turns out – for a cappuccino. Happily, it gets approval as Gareth explains that, without filters to rob flavour, the humble coffee press produces a clean, crisp brew that's one of the easiest to get right. His own method of choice is an AeroPress.
Turning to the theory, Gareth explains that brewing coffee is all about its solubility, impossible with a raw bean but improved through roasting. Below us in their warehouse and roastery, Angharad is pouring beans into the roaster, carefully monitoring a laptop to ensure the 12-minute roasting time, which begins at 220°C, is managed to deliver the perfect roast. In six years, she's done this more than 10,000 times.
Of course, if it was as simple as grinding the beans and running water through them, there'd be no need for courses like this one or the nine hour induction that every new Carvetti customer receives. But not even water is simple.
"About four years ago we realised our water, which comes from Haweswater, is super soft, and soft water annihilates coffee. It led us down a different roasting route," says Gareth.
Without the 'solids' like calcium and magnesium found in hard water, there's nothing to carry flavour in soft water, which is also more acidic.
"Your water can affect the coffee you buy and how you brew it," says Gareth. Soft water needs help to bring out the flavours in the coffee and one way to do this is to use hotter water, between 93 and 97 degrees. Stirring before plunging your coffee press also helps - a major lesson learned, as I never do this. It's especially important with coarse ground coffee, when you get a raft of coffee 'blooming' on the top of the water, as agitating it releases gases and retains flavour.
It's a good idea, therefore, to find out the quality of water in your area. Kendal, Penrith and Carlisle, for instance, have hard water, just to add to the confusion. When it comes to bottled, Volvic is apparently as close to perfect coffee water as you can get.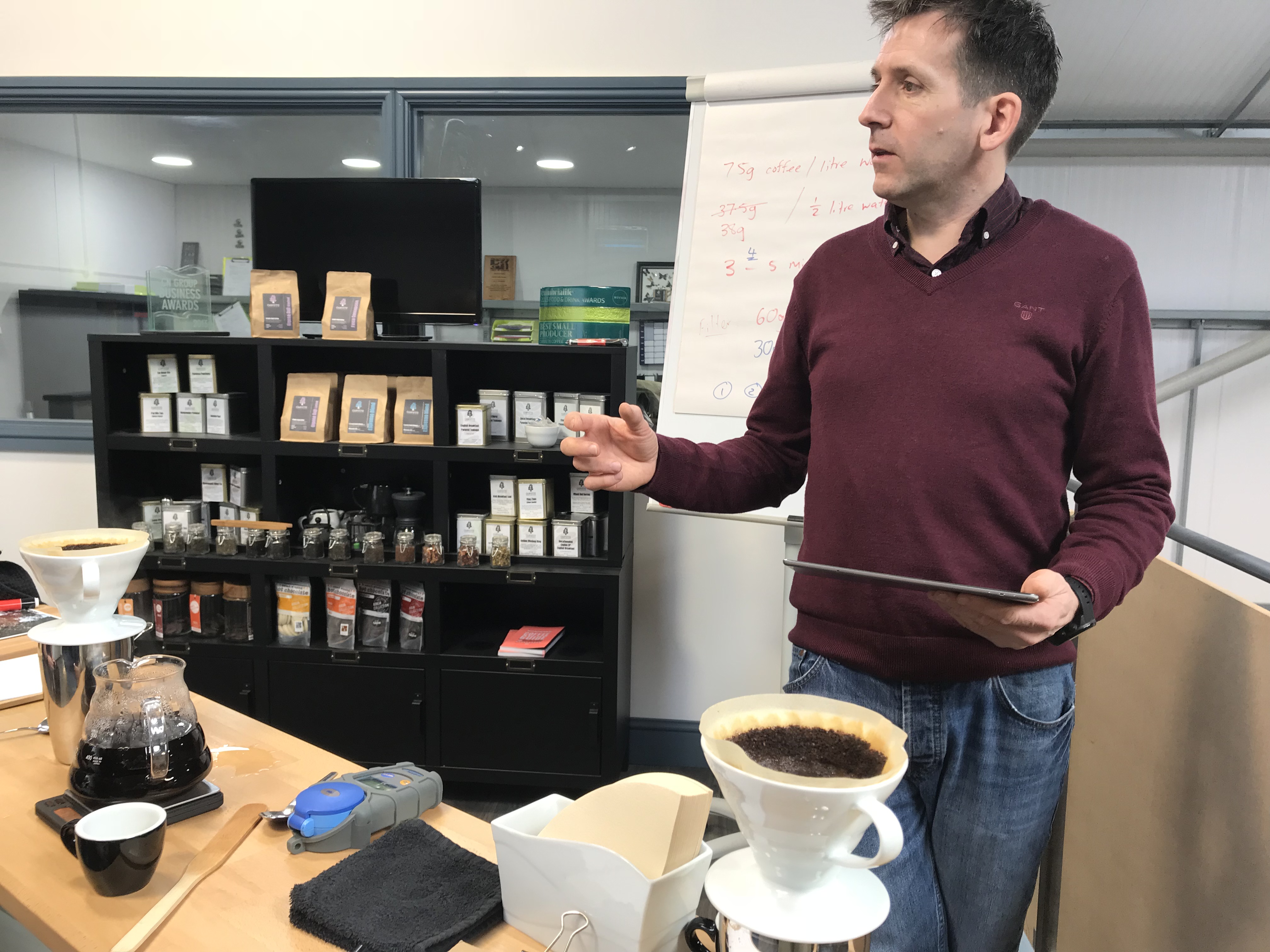 Gareth Kemble, co-founder of Carvetii, shares his experience
Roasters are aiming to balance levels of acidity, sweetness and bitterness, which we try to rebalance again at home when brewing our coffee. "We like to think our coffee sits somewhere in the middle as we aim to lose acidity without gaining bitterness," says Gareth. A mere 30 extra seconds in the roaster can upset the balance.
Roasting helps to balance the four main flavour groups that come into the cup - fruit acids, browning sugars, caramels and chocolates, and dry distillates. This last one manifests in a drying sensation on the back of the tongue, akin to tannins in wine, and a smokiness. The solution, after your first pour from the cafetière, is to decant the rest.
Each Carvetii pack of beans comes with recipes according to the brewing method. For a coffee press, it's 75g of beans per 1 litre of water and a 3-5 minute brew time; for an AeroPress its 12g coffee and 170g of water for 1-2 minutes. Another tip is to weigh it out every time rather than relying on scoop size - Kenyan beans are much bigger than Ethiopian for instance so you wouldn't get as much coffee in the same scoop.
Gareth explains how only 30 per cent of each bean dissolves and 10 per cent of that is bad. It's becoming clearer how complex achieving the perfect cup really is. And we haven't tackled the grind yet.
We three students are tasked with carrying out experiments to demonstrate the differences in flavour and character brought about by coarse, medium and finely ground beans. Safe to say the differences are huge, which helps me to define what I like - good depth and not too fruity.
After perfecting your grind, the "next line of attack" is the brew time. "If you're at home and able to drink your coffee straightaway, I'd go for a finer grind and reduce the brew time, but if you're at work and the coffee stands for a while, it's better to go for a coarser grind," suggests Gareth.
When it comes to Carvetii customers, as well as supplying coffee, Gareth advises on grinder settings to manipulate the strength profile of the coffee depending upon each customer's knowledge of their own consumers, for example, if it's for breakfast at a high-end hotel like Forest Side or a traditional cafe.
"The biggest pride for me comes in seeing customers grow from having served standard coffee to being shown the impact of grinder settings and starting to develop their understanding to a couple of weeks later seeing them manipulating their grinder to achieve the coffee their customer base prefers," he says.
Our final test is producing filter coffee by attempting to pour through the required half litre of water within the optimum 4-minute brew time. Spooning a sample of my brew into his refractometer - a gadget for measuring the strength and extraction percentage of the coffee – I'm happy to see my cup of Finca Nazareth from El Salvador is just about spot on with an extraction rate of 20.5 per cent and 1.38 per cent strength. Importantly, it tastes pretty good too.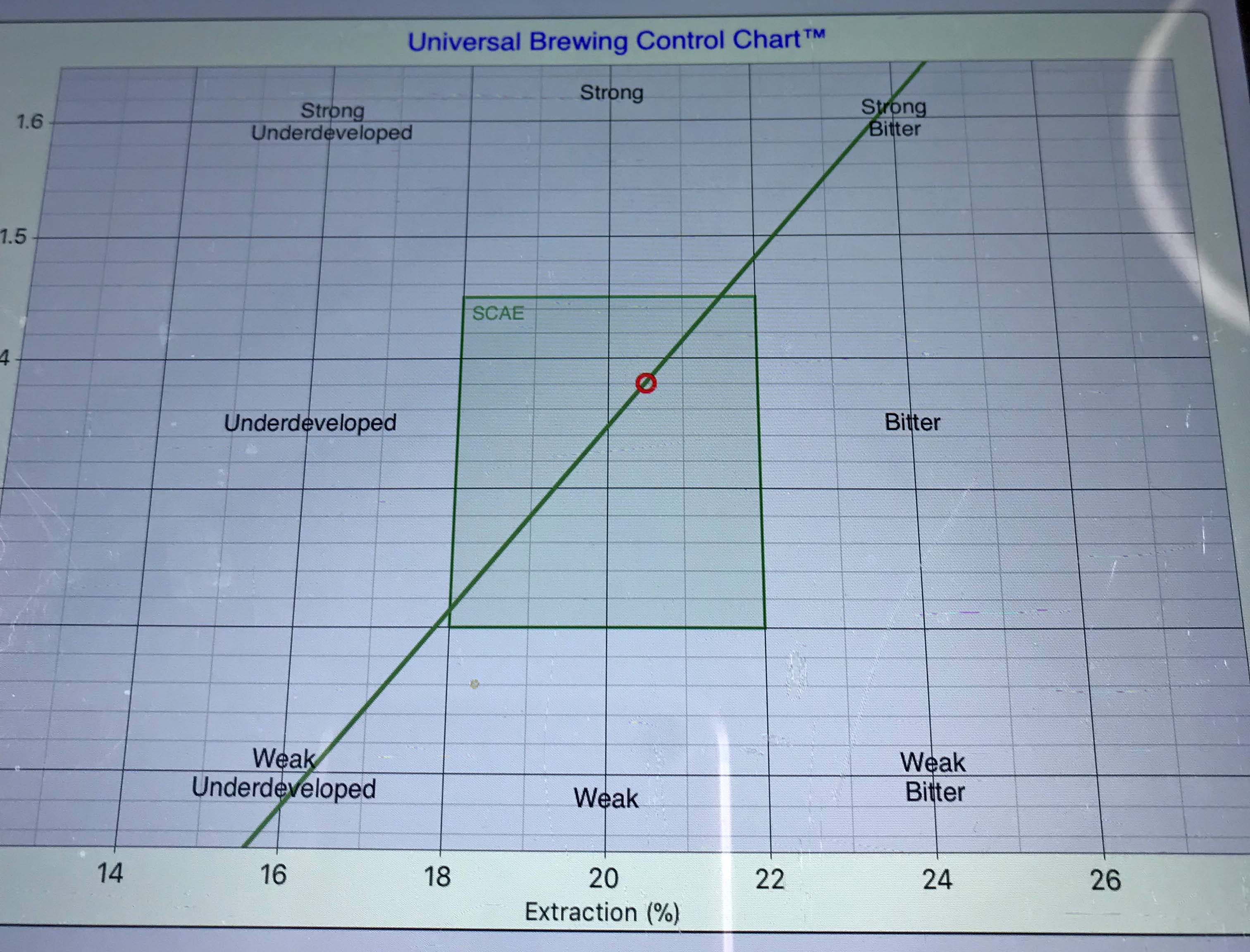 Not bad for a beginner - the refractometer shows my brew is about right
Afterwards I step out into the early spring sunshine, my mind slightly boggled by everything I've learned. It calls for a sit down in a nice café – but will I ever be able to look at, or taste, coffee in the same way again?
For more information on Carvetii coffee and their training workshops, visit www.carvetiicoffee.co.uk