Hilarious and heart-warming
December 15th, 2019
Visit
A Christmas Carol, Theatre by the Lake, Keswick
At risk of sounding a bit bah humbug, the cost of a keeping the whole family happy with festive entertainment can soon snowball as tickets for Christmas concerts, plays, movies and, of course, the panto pile up.
If your Scrooge spondoolies stretch to just one then this rollicking production should be it. The multi-talented cast of five manage to squeeze in great musicianship, puppetry, song, dance, drama, wardrobe and props amid the non-stop action of Patrick Barlow's adaptation that incorporates the sinister and the sensitive and everything in between.
Dickens' sense of humour comes through in many of his works but A Christmas Carol with its messages of meanness and memories, redemption and renewal isn't the most obvious. Yet this production is joyous, hilarious and heart-warming in equal measure.
After the confusion of Scrooge's uncharacteristically cheery entrance – all becomes clear when he imposes colossal interest rates of which a payday loan company would be proud – he soon reverts to type and the story moves along as expected.
The well-done arrival of Marley – along with the Ghost of Christmas Future – will perhaps be a scary for younger children but then "all children should be frightened" suggests Scrooge.
If Part I hints at panto, the opening of Part II throws itself headlong into the colour and celebration of the Ghost of Christmas Present with the wonderful Claire Storey channelling her inner dame and fairy godmother.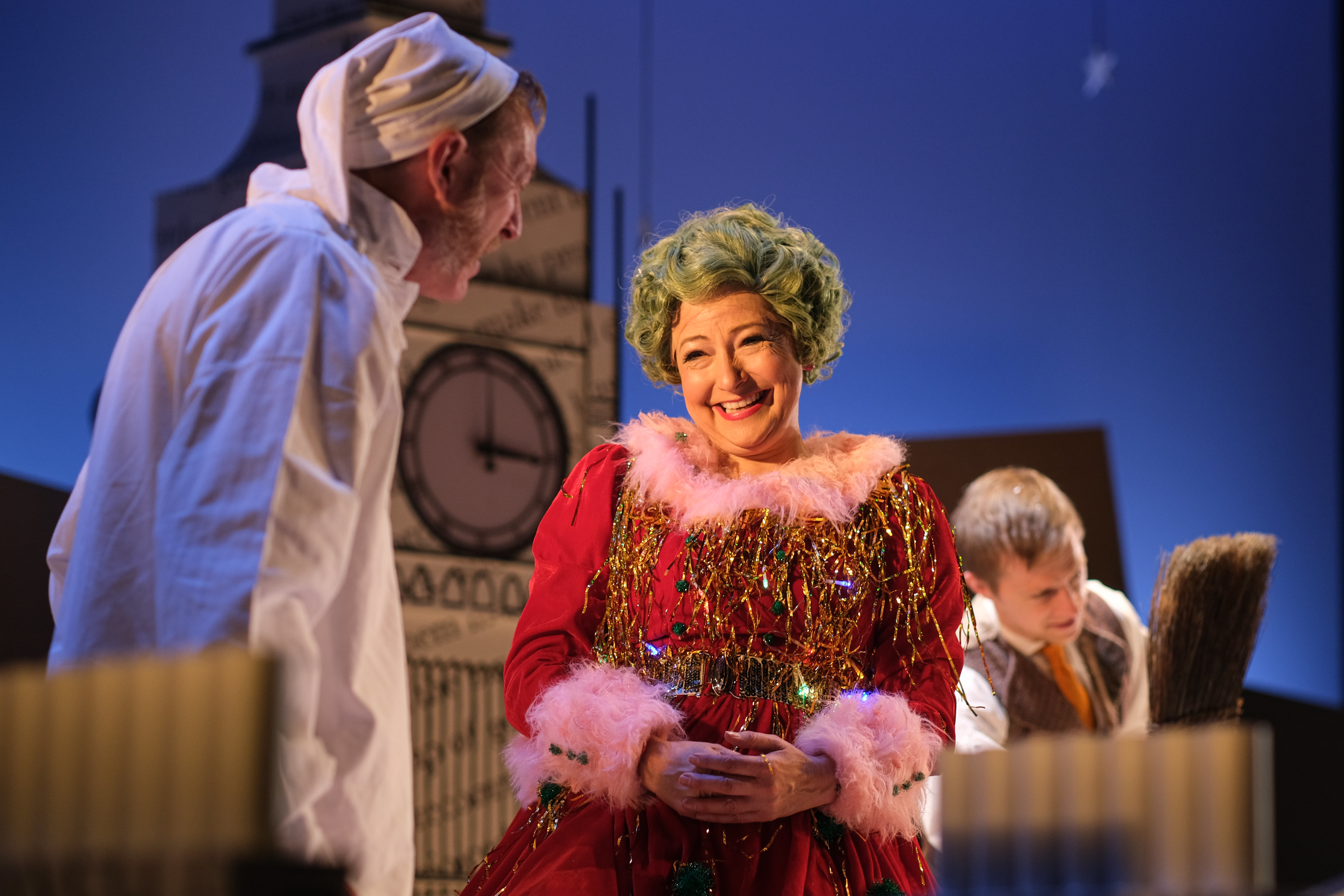 It borders on bonkers, only bettered when the Cratchit 'children' take centre stage. Tiny Tin (you'll see why) is living on a knife edge while his sisters engage in their own kitchen sink drama.
The frivolity calms down for the tenderest moment of the play as Bob Cratchit (Pete Ashmore) reflects on the significance of Scrooge's book of fairytales. We all find sympathy in our hearts as we're reminded of the sad backdrop to his life and how his present has been influenced by his past.
A final twist has the audience guessing if art has become life, or has it?
You will leave in awe of the cast and feeling full of their spontaneous Christmas spirit. If you're visiting the Lakes this winter, catch it Cratchit while you can.