Crossing borders
December 23rd, 2019
Visit
A century ago a group of talented and distinctive artists were making their mark for their unique blend of French influence and Scottish identity. Hailed as international radicals at the time, the Scottish Colourists were shortlived as a group, yet their collective style and individual skill has stood the test of time, not just in the critical acclaim of their own work but also in the impact they had on other artists and the influence they continue to have today.
A new exhibition in collaboration with the Fleming Collection at Abbot Hall Art Gallery in Kendal brings together, for the first time, the work of the four Scottish Colourists with paintings by later artists whom they either taught or influenced.
Colour and Light: The Art and Influence of the Scottish Colourists – Highlights from the Fleming Collectionis the final exhibition at Abbot Hall before it closes next spring for major refurbishment. It will shut its doors temporarily triumphant in the quality of the work and having achieved a first with this unique showing.
Much of the Scottish Colourists' work on display comes from the Fleming Collection – paintings by John Duncan Fergusson, Francis Cadell and George Leslie Hunter and Samuel Peploe – supplemented by Lakeland Arts' own Peploe work, Still Life with Oranges and Tulips. Uniquely, curator Chelsea Eves has expanded the exhibition of 47 works by highlighting the artists who inspired the Colourists and by drawing further on Abbot Hall's collection and additional works from the Fleming Collection to look at subsequent generations of Scottish artists who were tutored by Peploe and others he influenced.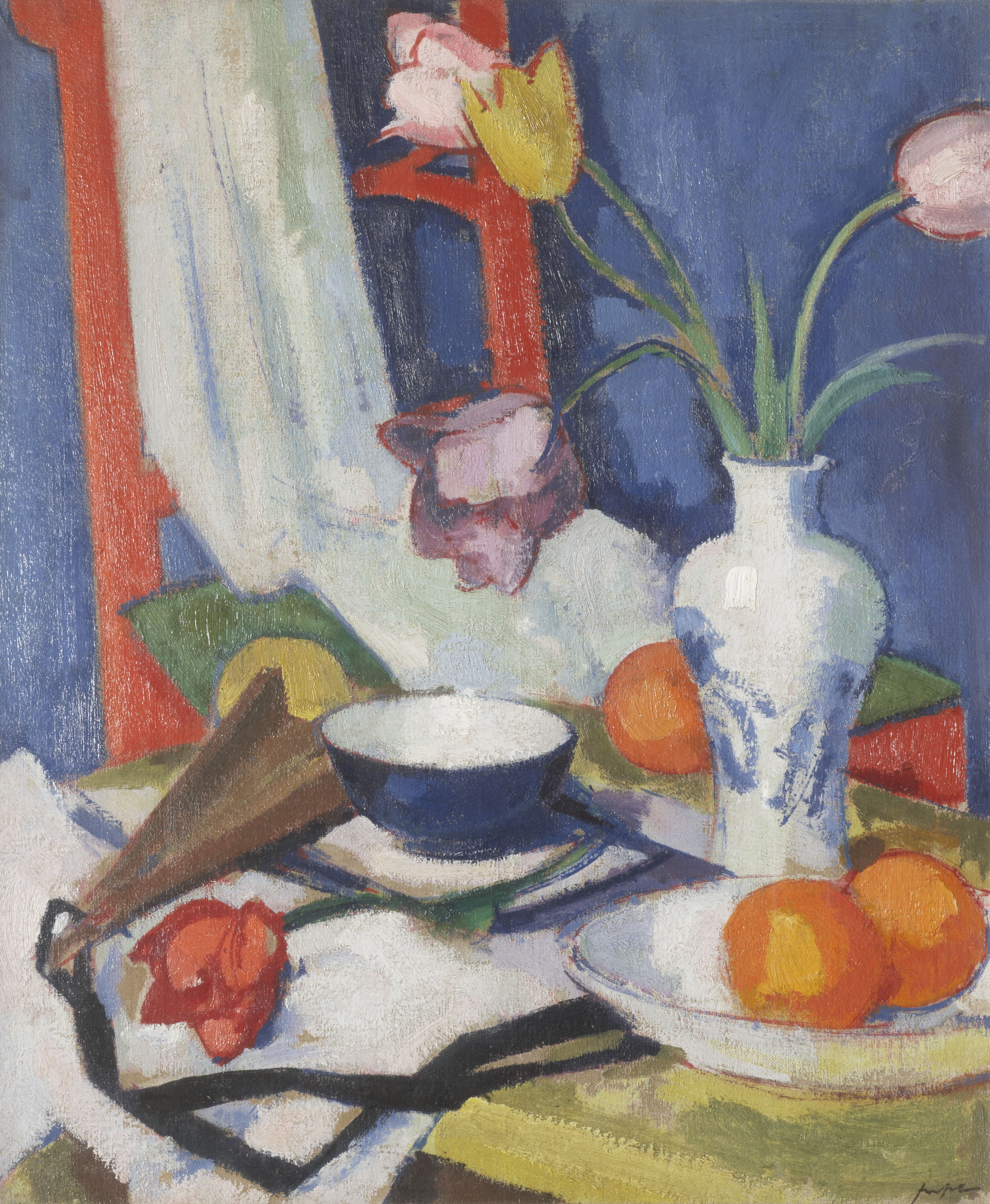 Still Life with Oranges and Tulips by Samuel Peploe, courtesy of Lakeland Arts
Chelsea explains: "To our knowledge, this has not been done before. The exhibition came about because we have been collecting work by Scottish artists at Abbot Hall since the 1960s. It is a core part of our collection but hasn't been looked at in this way before so this exhibition presents it in a whole new light.
"People are aware of the Scottish Colourists and their success but perhaps not so aware of their legacy and influence on the Scottish art and modern British art that came after."
The result is a fascinating overview of an exciting period of British art from the end of the 19th Century and the early part of the 20th Century whose lasting impact is identifiable right up to the work of rising stars of contemporary Scottish-based art today.
The exhibition begins with the two elder Scottish Colourists, Fergusson and Peploe, who were inspired in their early work by the likes of Manet, American artist James Whistler and some Monet, as well as Scottish artists who came before them namely the group of young radical painters known as The Glasgow Boys.
At the start of the 20th Century, both Fergusson and Peploe studied and trained in Paris where they moved from a rustic realist and impressionist style to one influenced by Matisse and Derain, leaders of Fauvism, painting characterised by colour and wild brush strokes.
"The change in how Fergusson and Peploe began to use colour is quite profound, using primary colours in a primitive way, applying the paint directly from the tube with bold brush strokes and creating harsher lines on still lifes and buildings, that had become more geometric by this point," says Chelsea.
When Peploe returned home to Scotland, what he had learned in Paris stayed with him, manifesting in a distinctive Franco-Scottish combination of technique and composition.
By now Fergusson and Peploe had been joined by younger artists Cadell and Hunter, the four coming together loosely at first but, by the 1920s, an associated group of artists who exhibited both individually and together, reaching their peak around 1924.
"It was an incredible period in Scottish art," says Chelsea. "Skills were being shared as the artists learned from one another and took inspiration from one another with this very impactful and experimental use of colour that continued to be the driving force."
Every summer Peploe and Cadell made summer pilgrimages to the Scottish island of Iona, which had the same quality of light as the Cote d'Azur, brilliantly conveying the beauty of the landscape as French inspired artists in a Scottish setting. It was captured magnificently by Peploe in one of his last works, Green Sea, Iona, on display at Abbot Hall, in 1935, the year of his death which also marked the beginning of the end for the group.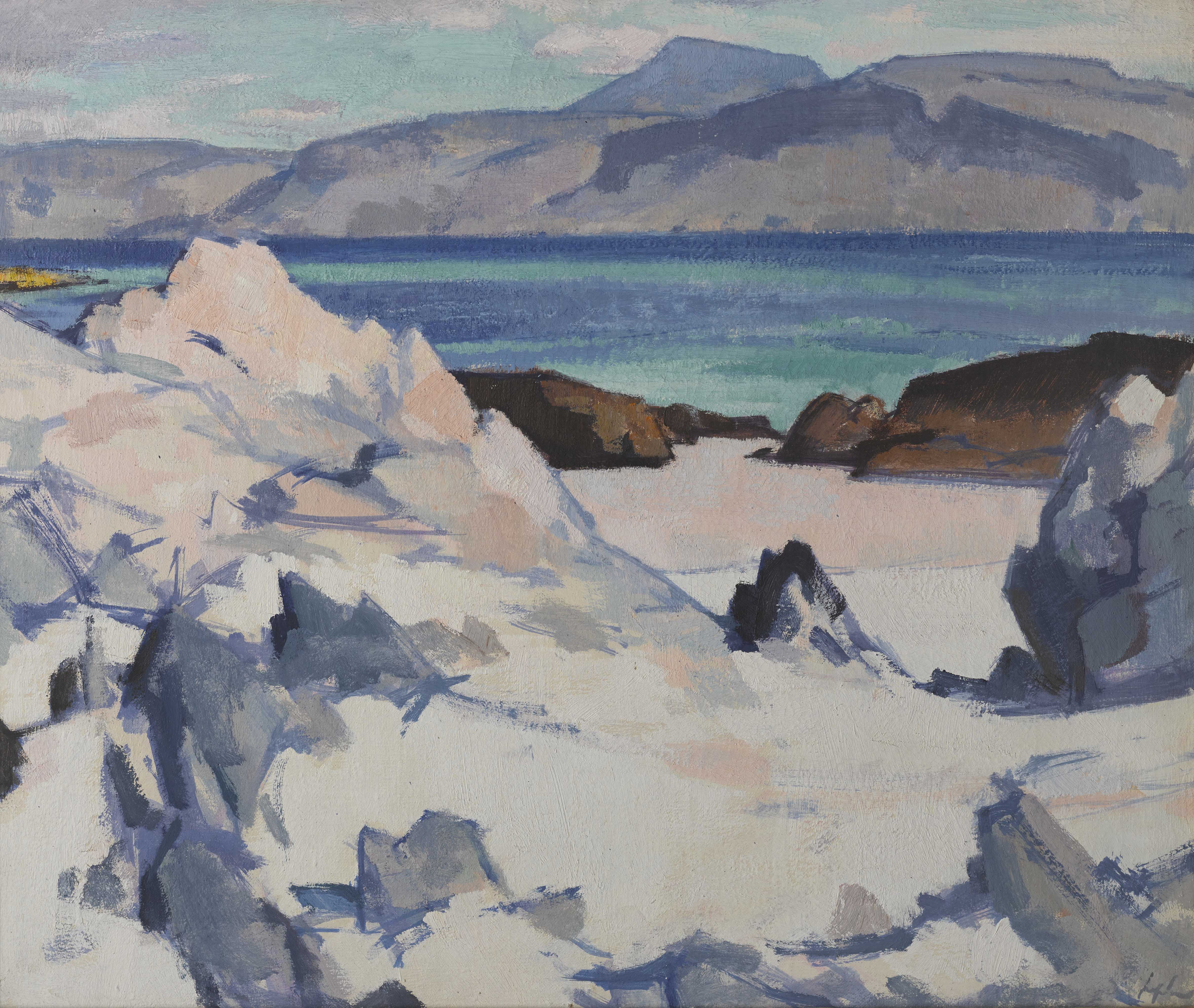 Green Sea, Iona, by Samuel Peploe, image courtesy of the Fleming Collection
James Knox, Director of the Fleming Collection, says: "The Scottish Colourists were fearless in becoming truly modern artists – determined as painters to crack the code of expressing the reality of contemporary life. This exhibition reveals their concentrated brilliance reflected in their ability to produce challenging work of great beauty and delight."
In the early 1930s Peploe taught at the Edinburgh School of Art with work by several of his pupils – who became known as the Edinburgh School – represented in the exhibition, including Anne Redpath, William MacTaggart, John Maxwell, William Crozier and William George Gillies. Dorothy Johnstone's 1918 portrait of her friend Cecile Walton lying languorously against a hay rick, from the Fleming Collection, is awarded pride of place.
"Such a large scale work, and a work of this size by a woman in particular, was very rare for the time but it's good to see how Peploe, who is known for still lifes and landscapes, also influenced figurative work," says Chelsea.
Travelling through the following generation to work by Elizabeth Blackadder and on to Joan Eardley's 1962 work Children and Chalked Wall, the exhibition concludes with Flowers in Vase, a 2018 painting by Glasgow-based Irish artist and winner of the Fleming-Wyfold Award, Hannah Mooney. "Like Peploe, she creates mostly landscapes and still lifes and I see Peploe and Cezanne in this piece – the dark background, square, geometric brush strokes and the tonal effects of light.
"It's so exciting to have work like this here and to have a big show dedicated to the Scottish Colourists and their impact. They were the most gifted of their generation and the exhibition reinforces their status as four of the most talented, innovative and distinctive artists in 20thCentury British art."
The exhibition, which is sponsored by long-time sponsor of Lakeland Arts Rathbones Kendal, runs until February 1 2020.